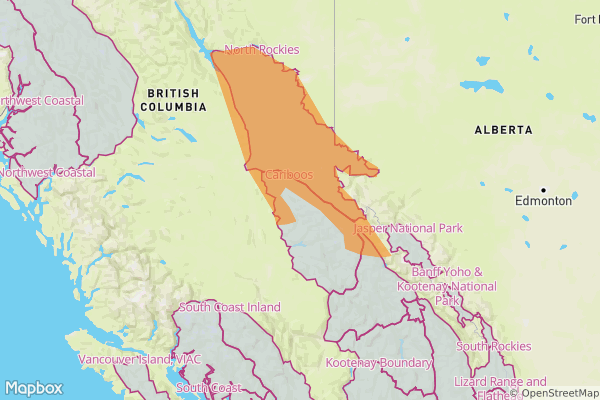 by EVAN MATTHEWS
Much of the Robson Valley was at a higher risk of experiencing avalanches last week, causing Avalanche Canada to issue a warning to backcountry users.
The special avalanche warning, which spanned from Jan. 20 – 23, was applied to the northern Cariboos and northern tip of the North Columbias.
The warning has since been lifted and is no longer in effect, according to Mary Clayton, media spokesperson for Avalanche Canada.
The warning included two of Valemount's three main riding areas – Clemina and Allan Creek – and extended north through McBride's main rec areas, too, according to Curtis Pawliuk, VARDA's general manager.
As of Tuesday afternoon, in reference to the same regions, the current forecast reads: "lingering storm slabs are expected to remain reactive to human triggering. A persistent weakness in the snowpack has also recently resulted in some very large avalanches and concerning burials. Conservative terrain selection remains critical."
The warning, which was issued Thursday, Jan. 19, was a result of recent warm temperatures and new snow, which created in a dense 'slab' layer, according to James Floyer, a senior avalanche forecaster with Avalanche Canada.
The slab layer was resting on a very weak base, Floyer said, and the combination of factors resulted in an unstable snowpack, making it easy for riders to trigger large avalanches.
"It was unusually cold and dry in the region through December and early January, giving the area a very thin and weak snowpack," explained Floyer.
Floyer says the problem can be managed through good terrain choices, however.
"With these conditions, it's vital that riders make conservative choices in their riding," he said.
In addition to not riding alone, Avalanche Canada is advising everyone in backcountry parties to have an avalanche transceiver, probe and shovel, while a two-day Avalanche Skills Training 1 course is the minimum training recommended for travelling and riding in avalanche terrain.
For current conditions, visit www.avalanche.ca.