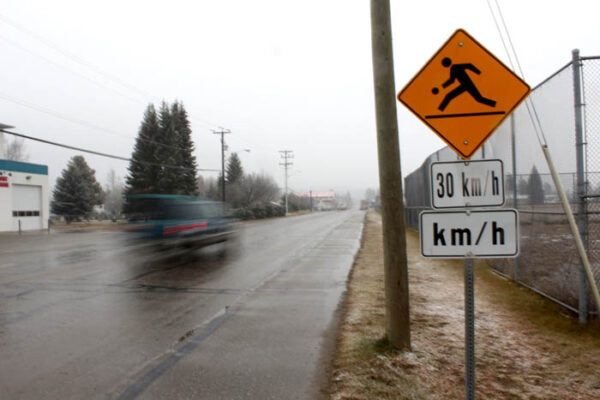 The Village of Valemount is looking to slow the pace of 5th Avenue, as Village Council has voted in favour of lowering the speed limit.
The Public Works Committee, after its Oct. 18 meeting, has recommended to council changing the speed limit from 40 KM/H to 30 KM/H for the entire length of 5th Avenue, from Highway 5 intersection all the way to the CNR right of way.
"Public Works talked about posting signage through, at least, the downtown — from where the playground at (Centennial Park) ends and through the busy area," Councillor Reimer said at the Oct. 25 council meeting.
"We talked about another sign near the railway track in lieu of the potential for having the arms installed," he said.
By the time the Village is done posting the signs through the downtown and near the tracks, according to Reimer, the Village might as well do all of 5th Avenue.
But not everyone is Valemount agrees, with many taking to social media to express their concerns.
Former Bylaw Officer for the Village, Erik Myggland, says the last time the Village changed the speed limits was in 2011 when it dropped to 40 KM/H, and Myggland was on the committee that voted on the matter.
"Myself, another committee member and a member of the RCMP all voted against the idea, as it was a waste of time and money," says Myggland.
"We agreed there was no reason to change the limits, because nobody even went 50 KM/H (at that time), usually quite a bit under," he says, noting the main public concern was children's safety.
The RCMP Officer on the committee at the time, according to Myggland, said there was no police records indicating an influx in pedestrian or vehicle collisions, and in his time with Valemount Fire Rescue, Myggland says he too had never attended an incident with a child or pedestrian who had been hit.
Ultimately, at the time, four of seven voted in favour of changing the speed limit, and it dropped to 40 KM/H.
But council is of the opposite opinion, according to Reimer, as he said most people tend to drive with a little bit of leeway, often exceeding the speed limit, even slightly.
"It's hard to drive 30 KM/H unless you're following somebody who is actually driving that speed," said Reimer.
"But if we post the signs, and most people do what they tend to do, at least we've slowed the traffic down from perhaps 45 or 50 KM/H to under 40," he says.