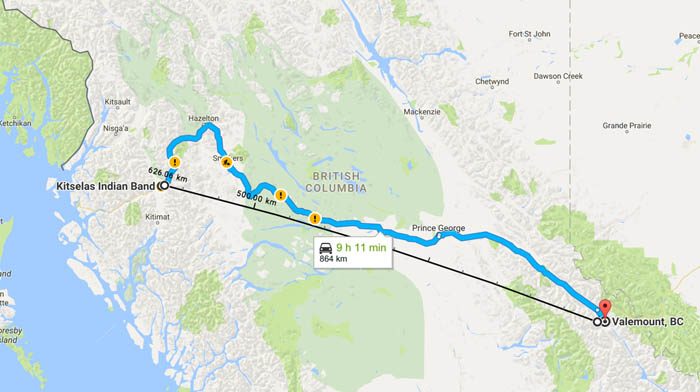 Despite all the praise, Valemount may not end up with the first direct-use geothermal power plant if Kitselas First Nation has anything to say about it.
Kitselas First Nation is pursuing private power purchase agreement partnerships with major project proponents.
Kitselas First Nation, with the help of Borealis Geopower, is pursuing private power purchase agreement partnerships with B.C. Hydro.
As a result, the Kitselas First Nation will receive $10,000 in capacity funding, according to the Province, in order to support negotiations with B.C. Hydro to establish power purchase agreements for the sale of electricity from the proposed plant.
The potential partnership between B.C. Hydro and Kitselas First Nation will support the exploratory drilling stage for the proposed Kitselas Geothermal Power Generation Project.
The project is a being organized by Kitselas Geothermal Inc., which is the formal name of the partnership between the Kitselas Development Corporation and Borealis Geopower.
The Kitselas Development Corporation is the economic arm of the Kitselas First Nation.
"About 10 KM south of Terrace, B.C…. The project is seeking to develop one of the first, if not the first, geothermal power plant in Canada," Borealis Chief Geologist, Craig Dunn, writes on the website.
Kitselas will also seek a private power purchase agreement with a local buyer for thermal energy produced by the plant, according to the Province.
"The Geopower project is a… standard hydrothermal project… with the intention to sell the power generation to B.C. Hydro," he says.
As it stands now, the Province says the project would be one of Canada's first geothermal power plants.
The plant would harness geothermal energy, according to the Province, producing 15 megawatts of electricity with the potential to provide another 135 megawatts of thermal energy as a main heat source for local businesses.
"Clean geothermal energy is a key priority for Kitselas First Nation, and the funding provided by the Province will help us garner the necessary financial assistance to support the completion of this project," says Kitselas First Nation Chief, Joseph Bevan.
"This will bring many benefits to our community. This includes long-term energy security and powerful economic benefits through power purchasing agreements," he says.
Other benefits include enhanced energy security, the offset of greenhouse gas emissions and the creation of up to 75 jobs over the construction and operation phases, including 15 long-term jobs, according to the Province.
Contrary to what some Robson Valley locals may think, President of the Valemount Geothermal Society, Korie Marshall, says more projects such as this are encouraging.
"We know the province won't help to fund exploratory drilling, and we know it's expensive to drill," says Marshall. "It's really the key to confirming any underground resource."
However, with more communities looking at becoming involved in geothermal power plants, Valemount has a limited window to be the poster child for such projects, according to Marshall.
"We need to get busy."