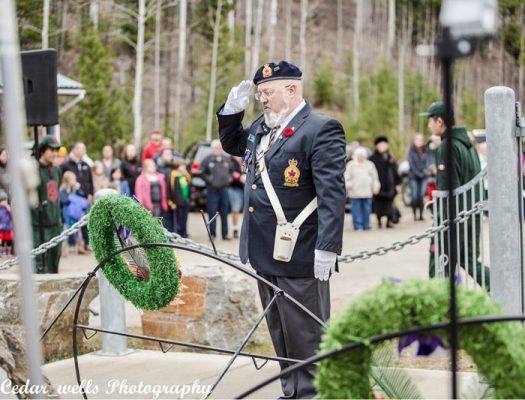 by HANNAH BLACK
Before a moment of silence fell over the school at 11 AM, anyone entering the school could feel the busyness of Remembrance Day.
As emcee, I had the privilege of hosting a ceremony, a ceremony celebrated in various cities all over Canada. I felt my job was very important, almost like a talk show host.
Some of my duties included prepping the elementary school kids before and after they went on stage, raising and lowering the video screen, and speaking in front of two RCMP officers, Legion member, Eugene Jamin, Legion leader, Pete Pearson, Lynn Lawless' Grade 2 and 3 class, as well as all of Valemount Secondary School (VSS).
Remembrance Day is important to me because Canadian Veterans have taken many bullets for all of us, and they've been doing so from 1914 right to this very day.
I can't imagine what our town would look like if we didn't have an army willing to fight for our country, and our town.
Another question I ask myself is: Who do I think about on Remembrance Day?
My mom has a friend, Brian Friesen, and he serves in the army. I haven't been in contact with him for a while now, but there is a picture of Friesen in the Legion's Military Museum on the second floor.
I appreciate his, and all Veterans service to our nation, and the opportunity to emcee such an important event to our town, and to our nation.
— Hannah Black is a Grade 8 student at Valemount Secondary School. Some of her hobbies include nature walks, photography, reading and writing. She plans to spend time with The Goat rounding out many of her creative skills.