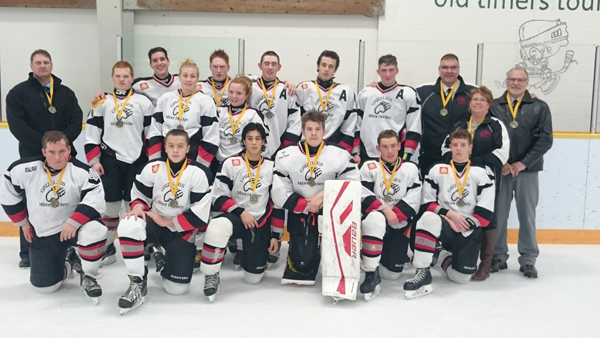 by BRADY KNEZACEK
The McBride Grizzlies midget hockey team travelled to Logan Lake, BC for tournament action last weekend. Logan Lake, North Delta, Abbotsford (2 teams), Kelowna (2 teams), Chilliwack and McBride played in a round robin format with the finals on Sunday.
On Friday night the Grizzlies played against the fast skating Abbotsford Wild. The Grizzlies took a 2-0 lead after the first period on goals from Dylan Vizza and Billie Littlechild. Keith Shawara rounded out the scoring enroute to a 3-1 Grizzlies win. Austin Gibson and Valemount product, Darian Griffin, chipped in with assists.
In Game two on Saturday morning against the Kelowna Avalanche the Grizzlies found their skating legs and scoring touch, propelling them to a 6-2 win. Keith Shawara and Bryden Basran notched two goals each with Dawson Drader and Vizza getting singles. Brett Jones had two helpers with Noah Janeke and Vizza getting assists each.
In the afternoon game the Grizzlies took on the host team Logan Lake Blazers. The Blazers are rebuilding this year and had three affiliated players (AP). The Grizzlies dominated throughout with Grizzlies goaltender, Robert Knezacek, notching the shut-out in a 13-0 win. Scoring for the Grizzlies were Vizza (hat-trick), Basran (hat-trick), Drader (2 G), Shawara, Jones, Shaelyn Bratten and Rylan Moore. Second year Bantam AP Ethan Quam scored his first goal in midget play for the Grizzlies. Shawara was Gretzky- like notching 5 assists. Vizza had 3 helpers with Littlechild, Jones, Bratten , Griffin and Quam each getting assists. With the win and 3-0 record, the Grizzlies took their division and were in the final on Sunday at 2 pm.
The Grizzlies took on the other team from Abbotsford, BC in the final. The Challenge had gone undefeated in their pool with 1 win and 2 ties. In the aggressive, back and forth, fast skating final the Grizzlies took a 1-0 lead on Vizza's goal after the 1st period. After 2 periods the score was 4-2 for the Grizzlies on goals from Shawara, Basran and Vizza. Robert Knezacek had a strong game making key saves including stopping Abby's best player on a break- away. The Grizzlies pulled away in the 3rd period to take the championship final 8-4. Basran and Vizza each ended up with hat–tricks with Shawara potting 2 goals. Assists went to Austin Gibson, Quam, Griffin, and Drader. Grizzly coaching staff were extremely happy with forward, Jordan Gibson's physical all in effort in front of the opposing teams net the whole weekend. Gibson payed the price for his play in front of the net with him getting several scoring chances and bruises.
Grizzlies coaches had numerous comments made to them over the weekend about the teams fair play, ability and talent. Local residents can be proud McBride and Valemount were represented well.