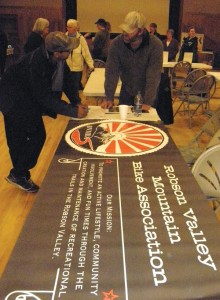 By Monica Marcu
But what not? We learned more about the many opportunities for entertainment and outdoor activities last Tuesday at the meeting organized by the McBride and District Chamber of Commerce. The event, held at the Robson Valley Community Centre, gathered numerous local organizations and clubs whose representatives made presentations and organized colorful booths.
Among the presenters: Open Gate Community Garden, Back Country Horsemen of BC – Robson Valley Chapter, Big Country Snowmobile Club, Mount Robson White Water Rafting, Robson Valley Fish and Wildlife Club, Robson Valley Mountain Bike Association, Yellowhead Ski Club, McBride Hospital Auxiliary, McBride and District Public Library, McBride Curling Club, Whistle Shop Visitor Centre, McBride District Volunteer Fire Department, and others.
The organizers, represented among others by Bill Arnold, Clara Appleby and Linda Fry (members of the Chamber Board), introduced the presenters and main organizations, and also took the time to describe some of the main tourism attractions and beauties of our area. They emphasized the importance of tourism as being the fastest growing industry in the province. This should not be a surprise for our "Beautiful British Columbia," but even overall in the global economy, the travel and tourism sector is one of the fastest growing and employs more people than automotive manufacturing, mining, and financial services combined, according to new research from the World Travel & Tourism Council.
In recent years, Canada's tourism brought in more GDP than agriculture, forestry and fisheries combined, and generated more than $88.5 billion/year in economic activity. Locally, there is great need for increasing the awareness of our many attractions, beautiful sites as well as clubs and associations. McBride area offers after all an astounding variety of outdoor attractions for all seasons and ages: during the winter months many cross-country skiing trails and world-famous snowmobiling trails as well as designated snowmobiling areas; the warm season allows for hiking, bird watching, backcountry roaming and camping. Recreation sites include Beaver Falls Recreation Trail, LaSalle Lake Recreation Site and McBride Peak Halfway Hut. A popular local site is Horseshoe Lake, a naturally formed ox-bow lake where birdwatchers can observe waterfowl from an observation platform. But my favorites are the many towering peaks, glaciers, mountain meadows, swift creeks and rivers surrounding the valley – a paradise for the avid hiker. Our call and challenge are to make our area better known to Canadian as well as foreign tourists.
I started my booth tour with the McBride & District Public Library, which has been proudly serving the Robson Valley for over 60 years. Their booth offered a visitor's guide emphasizing the resources: a wide selection of books, magazines, audiobooks, and DVDs to borrow, or online eBooks and hundreds of e-magazine titles. Free internet is also available. BC residents passing through can borrow books through the BC OneCard program and return them at any library in the province. The library's website- mcbride.bclibrary.ca – offers details and an updated schedule.
The Back Country Horsemen of BC – Robson Valley Chapter is one of the 22 Chapters throughout the Province. The local Chapter includes the nearby communities of McBride, Dunster, Valemount, Tete Jaune, Crescent Spur and Dome Creek, and its main focus is safety as well as environmental stewardship. The members work to support the improvement of back country areas and trails of the Robson Valley.
The Open Gate Garden announced their new initiative – a seed library – to encourage learning how to save seeds and promote locally adapted plants. The annual membership cost is $20. The Garden's popularity has increased continuously during the last four years.
I continued my booth tour among nature books, furs and wildlife trophies, ski boots, polished granite curling rocks (that I tried to lift but could not budge, while a frail lady was explaining how easy curling is at any age), photographs and large potato sacks for $1.
Mount Robson White Water Rafting, in business since 1981, hosts tourists from all over the world. It organizes not only rafting but sightseeing tours and powder skiing, and boasts a delicious home-made pizza.
McBride Hospital Auxiliary organization, represented by three dedicated volunteers, gathers donations for the hospital to refurbish palliative and acute care rooms.
The McBride village web site: www.mcbride.ca, describing "A Town on Track," has a lot of useful information about local activities.