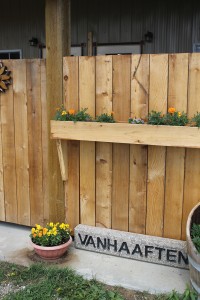 By Korie Marshall
Plans to split and combine a couple small businesses are progressing, but one business owner involved feels he has been persecuted by village staff, and he's happy about a recently announced change.
When Robert Van Haaften took over the car wash in 2011, he told The Valley Sentinel he chose Valemount because the people at the Village Office were very helpful and open to new business, something he didn't see in any other municipality he checked out. He even keeps a copy of the paper that story came out in on his shelf at the carwash, though it soon won't be his car wash anymore.
Valemount Council passed third reading of the bylaw for zoning amendments to allow the property to be split last week. It still has to go to final reading though, which means Van Haaften had to get an extension on the closing date for the sale of the business. He says it was supposed to have closed at the end of July, but the buyers, who are planning to move the community's only recycling business in with the carwash, have been very understanding and accommodating.
Van Haaften says he wants to continue living in Valemount, and plans to keep running the storage business he built alongside the carwash, which he says has been a surprise success, even more successful than the carwash. The units he placed behind his second property, the former Trading Post he recently purchased, were intended to be just overflow, but he says they are almost full now too. Even so, Van Haaften has listed the Trading Post for sale again with Yellowhead Realty at $579,000.
The property was previously listed with the same company at $480,000 for former owner Henry Unger. Unger says the offer he received on the property was the biggest insult of his life, but he accepted it because of other financial problems. BC Assessment lists the property value at $301,000 for 2015, but doesn't record the recent sale, something Geoff Radtke, Deputy Assessor for BC Assessment, says happens if the sale is deemed to not be reflective of market conditions.
The carwash property has been for sale for some time, and splitting up the property required quite a bit of work on top of the zoning amendment. Water and sewer had to be capped off for the lot with the storage containers, which was straightforward, says Van Haaften, but providing the new connections to the main building required some figuring out, and some amazing luck.
Van Haaften says they couldn't bring in the connections from the back, because the purchasers are planning to build an extension to house the recycling business, and the connections can't be placed under buildings. They couldn't bring them in from 5th Avenue because of underground telephone lines, so they had to try bringing them in from the side along Ash Street. He says Village staff members working on solving the problem were helpful, but local contractor Richard Dehnke thought there was a connection that wasn't marked on the Village's drawings, and they took the chance digging up the entrance to find it. Luckily they did, which meant some big savings in construction costs and time, but it meant there was a big hole in the yard over the weekend. Which led to an example of why Van Haaften says he feels he's been persecuted by some members of staff at the Village.
Van Haaften says bylaw officer and building inspector Dean Schneider told him he'd have to provide 24-hour surveillance as well as barricades and snow fencing to ensure the safety of the community.
"I wouldn't mind that if the rule was applied to everyone. But that same weekend, there was a big hole in front of the Lions Club, with none of that," says Van Haaften.
Building inspector and bylaw officer Dean Schneider could not be reached for comment before presstime, but he contacted the Goat after this story was published. He says he didn't tell Van Haaften he needed to put up fencing or have security.
"I absolutely did not tell him anything like that," Schneider told the Goat in an email. "I simply asked him how long the hole was to be left open and thanked him for already having barricades in place, there was no persecution in fact I was only there out of curiosity and was happy for his success on finding the sewer line."
The Lions Club is currently in the middle of renovations to make their washrooms accessible, which required extending the building out the front. The hole in Van Haaften's yard was actually on Village right-of-way, not within the property line. But it's an example of what Van Haaften sees as an unfair playing field and the Village not having a straightforward list of expectations that apply to all businesses.
"Every time I went to the Village office with an idea, it felt like they would intentionally delay or stall or find some reason to say no," says Van Haaften.
And on top of that, he felt at times like he was directly insulted. He had to put down a $20,000 bond to ensure his contractors were paid, but he says when he went to collect it after the contractors were paid, he says the "paid" stamp on the invoices wasn't good enough.
"They said 'How do we know your cheques won't bounce?' That's what I found most insulting." Van Haaften says he doesn't know if a bond requirement is common practice in other municipalities, but he doesn't think staff in other municipalities would say something like that to a business person.
But Village staff has rules to follow, and has still tried to be accommodating.
In a report to Council, Corporate Officer and Planner Andrew Young said this type of zoning amendment would not usually be supported by staff since it may be seen to set a poor precedent. But given the situation, it was recommended the zoning amendment be passed, because of the difficulty of placing a "principal building" on the lot to meet the bylaw requirements, and the strong interest expressed by the operators of the recycling centre to move in with the carwash facility.
Lori McNee, Director of Finance and spokesperson for the Village says they have protocol they have to follow, and it's been the same for every business that she is aware of. Further information wasn't available by press time because other staff members involved are currently on vacation.
After it was announced last week that the Village and its chief administrative officer Anne Yanciw have parted ways, Van Haaften posted on a social media discussion, "Now this village might begin to move forward!" He's received some backlash, with some residents saying they will boycott his businesses, but he says he isn't backing down. He says the Village needs a Council that works together, and an administrator that can lay out the process for business people and be respectful to them. He felt that was lacking with some current staff.