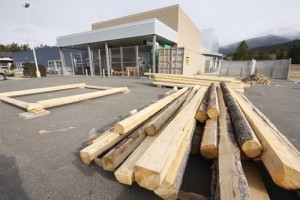 By: Korie Marshall
About 100 people – teachers, parents, staff and about a dozen students – met in Valemount and McBride last week to share ideas during strategic visioning sessions for School District 57.
Bruce Wiebe, School Board Trustee, represented Tim Bennett who is the Liason Trustee for the Robson Valley area, but was ill. Brian Pepper, Superintendent of Schools for SD57 also joined Charlie Easton and Eddie Sheppard, strategic planners with Stormy Lake Consulting for the sessions.
"We – all of us – need to develop an innovative and sustainable model of public education that meets the needs of current and future students so they are prepared to meet the challenges they confront personally and those they will meet professionally in the context of a global economy," said Wiebe at the opening of the meeting. He says the board wants help "to evolve" SD 57 into an exemplary school system, and the outcome of this series of meetings throughout the district would be a framework to help us make future decisions.
"We don't have a plan to share, and there is no specific outcome we are looking for," said Wiebe, but he says the current system is not sufficient to meet the needs of students in 20 years.
Easton led the groups through a series of exercises, working individually and sharing with a table of about six people, and while the session progressed, local students were busy collecting and recording the responses from the exercises. Each group also had a digital voice recorder, so that the consultants can review all the comments
later.
In some of the exercises, single word responses agglomerated into a "wordle" – a word cloud, where the words seen most often in the responses were largest. Sheppard showed the group their wordle, created from responses to the
question of ways we remember learning.
"There isn't any single dominant answer in your responses, but a lot of it is through experience and observing others and that real hands-on side of things and from those around you," said Sheppard.
For the question of the places we learn, there was less variety at least in Valemount's responses. The word "school" was clearly the biggest by far, but many other places were mentioned.
"In other work we do, school doesn't come up quite as much," said Sheppard.
For the questions of how we saw our own education and how we imagine the future of education, participants chose a photograph and Easton picked a couple he thought were representative of the responses. "We need to use our imagination to see how we can grow in ways that we can't envision," was one he pointed out
"So it's a tough job ahead for SD57," Easton noted.
The last few exercises involved "bold changes" – envisioning the perfect school system for 20 years from now and then figuring out the bold changes that we need to make today to get there. A tough exercise for some tables was the word pair. The challenge was to have the group agree on one word and list their reasons, for five pairs of words: innovation/traditional; broad/narrow; flexible/structured; local/global; and practical/academic. In Valemount, Easton said that three came out fairly consistently – innovation, broad and flexible. But the other two were tougher. He said there was great discussion going on around local/global, and that it is difficult to decide on the practical/academic.
"If we were to select a photo for this exercise, it is a fence, and you guys are firmly on it," said Easton of the practical/academic discussion.
But no word yet on how the responses will be used to create the framework, or if there were many noticeable differences between responses in rural areas like Valemount and McBride verses the more urban meetings in Prince George.