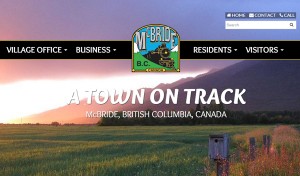 By: Korie Marshall
The Village of McBride has launched its new municipal website, designed to give fast and easy access to information for businesses, residents and visitors.
"McBride's new website is one of the best municipal websites in the province," says Geoffrey Roy, Economic Development Officer for the Village. "It is professional and user-friendly. Information is now easily accessible for everyone in our community."
The updated www.mcbride.ca website gives access to local government documents like council meeting agendas, minutes, policies and bylaws. It also offers printable versions of applications for licences and permits, and information about village services like snow removal, garbage pickup and recycling.
New to the website, local residents and visitors alike can find various amenities like places to eat, rest and discover the community. There are also links to other important websites, like the local Chamber of Commerce, Community Forest, tourism organizations and Discover Robson Valley Region, a promotion partnership between McBride, Valemount and the Regional District of Fraser Fort George.
A news release from McBride Mayor and Council says the new website is mobile and tablet friendly, meaning the site's design adjusts to fit the various devices and screen sizes from large monitors to mobile phones. The new website was designed by Sticky Wicket Designs of Prince George, and documents like agendas, policies and bylaws can be updated as needed by Village staff.
The Village of McBride also recently established a Facebook page, at www.facebook.com/VillageMcBride as a way to improve the Village's communication channels, says the news release.