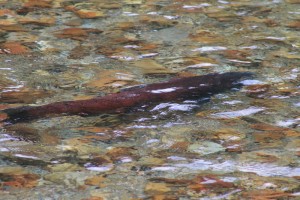 By: Korie Marshall
Work to restore salmon spawning habitat in Swift Creek continues, with an injection of $120,250 from the Pacific Salmon Foundation, announced Oct. 6th in Kamloops.
The funding announcement was made at a Pacific Salmon Foundation reception in conjunction with the "Salute to the Sockeye" celebration at the Adams River, with Cathy McLeod, MP for Kamloops-Thompson-Cariboo.
"Our government is proud to support Pacific salmon and the work that streamkeeping groups do in communities," said McLeod. "I am particularly pleased that one of the Pacific Salmon Foundation's grants this year went to support the important on-going conservation work in Swift Creek by the B.C. Conservation Foundation."
The BC Conservation Foundation has been working with the Swift Creek Restoration Society and Mike Wallis of Wallis Environmental Aquatics to restore sections of bank and streambed damaged in high runoff in the spring of 2012.
"Sediment and erosion have been steadily decreasing salmon production at eight sites over the years, and these funds will help address that through rehabilitation and replacement of the stream banks," says Barb Waters of the B.C. Conservation Foundation. "This grant is critical to the success of our project and will have direct benefits to salmon in Swift Creek."
The Swift Creek Watershed Society has been working with Fisheries and Oceans Canada to increase the spawning habitat in Swift Creek, and a watershed plan was developed in 2013. It identified 17 spots that need to be altered to enhance the riparian zone for the fish.
In a news release, President of the Society Bruce Wilkinson said about 160 meters of stream bank was altered last spring to create a sustainable path for the stream to follow, especially during spring freshets. This work created more than 300 square meters of usable habitat for salmon.
"This work will allow the stream to revert to a natural flow while staying within the man-made banks," said Wilkinson. Work continues on the creek bank this fall, to prevent erosion and improve the river's ability to deposit sediment in a natural way, he says.
Wilkinson says the society has been working from the Watershed Plan decide priorities, including building a new viewing platform at George Hicks Park to prevent visitors from entering the water and bothering the salmon. The platform also gives visitors a better viewing angle to see into the water, and he thanks work crews from the Regional District of Fraser-Fort George for getting the platform built before the spawning season began this year. Wilkinson says a fence and proper signage, educating visitors on good viewing behaviour should be in place next year, and the Society is also working on getting a new kiosk to replace the one that blew over this summer.
"With the declining numbers of returning fish we must do all we can to ensure the natural spectacle continues in the future," says Wilkinson. "We do hope that locals will restrict their use of the stream until the eggs hatch in early November."
The Pacific Salmon Foundation was created in 1987 as a charitable organization to protect, conserve and rebuild Pacific salmon populations in BC and Yukon. The funding comes from their Community Salmon Program, which supports volunteers who monitor watersheds, develop and implement habitat rehabilitation projects and educate communities about the conservation and protection of salmon. Since its inception, the Foundation has provided $41.3 million in project awards and grants to a total of 2,262 projects that have involved more than 35,000 community volunteers.
Funding for the grant comes from the proceeds from anglers obtaining Salmon Conservation Stamps through Fisheries and Oceans Canada, and through fundraising dinners and donations. The Salmon Conservation Stamp is a decal that must be obtained annually by anglers if they wish to keep Pacific salmon caught in saltwater off of Canada's West Coast. Proceeds from the Salmon Conservation Stamp have been a particularly important source of funding, with $7.75 million received since 1989. In 2013, the Government of Canada committed 100 per cent of Salmon Conservation Stamp income to the Foundation, generating more than $1 million for community grants annually.
This year, the Pacific Salmon Foundation's Community Salmon Program will provide $1.5 million in grants to 121 projects in 72 communities across British Columbia, says a news release. The total value of the projects, including volunteer time and community fundraising, is $9.1 million.
The Swift Creek Watershed Restoration Project alone has a total value of more than $360,000.