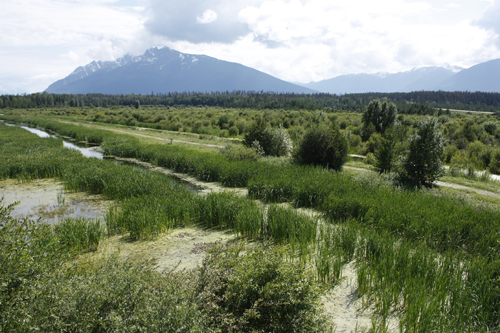 By: Laura Keil
Photographers and bird watchers, you have arrived!
While Cranberry Marsh (also known as the Starratt Wildlife Management Area) may not be considered a 'hike' by some, due to the flat grade, you'll feel as immersed in nature as if you were deep in the backcountry of the Rockies.
The 600-acre wildlife sanctuary and wetland splashes, flutters, and buzzes with activity from creatures big and small. More than 150 species of birds as well as beaver, otter, moose and deer call this place home. Bears have also been spotted foraging in the area.
Be sure to bring your camera as you walk along dikes among the busy air traffic of dragonflies, hear the unfamiliar honks and hollers of birds and ducks. The surrounding woodlands host large poplars, ripe raspberry bushes with diffused light filtering through the trees and bushes. Two wildlife viewing platforms are provided adjacent to the trails. From the first viewing platform, the trail follows a dyke built by Ducks Unlimited to enhance waterfowl habitat in the marsh. At the end of the dyke, the trail curves left, then right around in a loop, about 6km; or a hard left to a second viewing platform.
The village is currently working on installing a boardwalk along part of the marsh loop that right now runs along 17th Ave. The boardwalk would mean trail users could remain near the marsh instead of talking about 1km along a residential road.
This is a great trail for someone with limited mobility, as the dyke is located just 50 feet or so from the parking lot. The entire loop will take just over an hour at a moderate pace.
The main entrance to the trail system is on Highway 5 at the Best Western, just south of Valemount. Enter the Best Western parking lot and park in the lot closest to the highway. Or, drive down Ash St. to the very end, park at the Village sewage treatment plant and enter the trail at that point. The chain link fence disappears after a few minutes of walking. There are several other ways to enter the trail. Ask a local!
If you'd rather get an even closer view of the wildlife and a more solitary, peaceful experience, trying a kayak or canoe. The boat launch at the 'old dump site' between 17th Ave and Whiskey Fill is a perfect spot to begin the exploration and stunning views. The water is very shallow and calm – perfect for a beginner. In a kayak, you're quiet enough not to disturb the plethora of wildlife but you may panic some ducks by accidentally sneaking up on them!