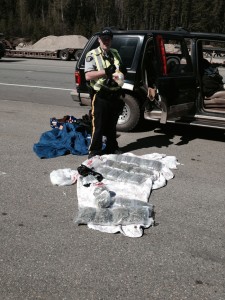 The North District Integrated Road Safety Unit from Prince George and Regional Commercial Vehicle Safety Enforcement officers gathered in Valemount to conduct a road safety check stop May 13-15th.
An item of grave concern to the officers present was the number of drug impaired drivers who were apprehended and subjected to Drug Recognition Expert (DRE) evaluations. Of the six that were detected, one was a commercial truck driver who was stopped at 6:15 in the morning.
Some alcohol related statistics were: seven 24-hour suspensions, one twelve-hour suspension, one 3-day Immediate Roadside Prohibition (IRP), and three 90-day IRP's.
There were a large number of commercial and private vehicles inspected for mechanical fitness and of those inspected, six commercial vehicles were taken out of service.
Detected as a result of the road check were several Criminal Code Offences leading to charges for both possession of a controlled substance and Possession for the Purpose of Trafficking. Contraband seized included marihuana, cocaine and steroids.
Estimated Seizure in photo was 13 pounds of marihuana.
A strategy of the road check was to have other officers roaming the highway near the check stop. These officers issued 115 speeding tickets and encountered at least five excessive speeders. This is when an individual is travelling more than 40KPH over the posted speed limit. The offender is fined and the vehicle they are operating is impounded for seven days.
Officers also encountered six prohibited drivers, seven individuals without driver's licenses and numerous other driving infractions.
Information provided by Cpl. Allan Roberts of E Division Traffic Services and Cst. S. Smith of the Valemount RCMP.