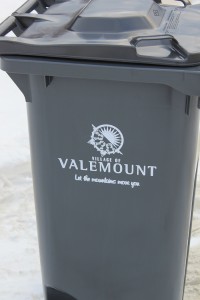 By Korie Marshall
The new garbage carts have arrived in Valemount. Many were out for garbage pick-up last week, although not all have been delivered to residents yet. The Village says they'll continue to be delivered as time and staff are available, but hope to have them all delivered within another week or so.
The Village says residents can use the new carts as soon as they are available, and staff will continue to pick up garbage either from the new bins or from old ones for now. There is no date set yet, but the Village will likely set a date when garbage will no longer be picked up from other bins.
Residents who didn't request a larger bin will receive the smallest offered – a 35 gallon square cart on wheels, which will drop yearly garbage fees from last year by about $15. Residents can also choose a 65 gallon cart for a larger yearly fee. Businesses can choose either of these two carts or up to four of the largest option, a 95 gallon cart. Businesses can also provide their own dumpster, so long as it is compatible with the Village's garbage truck.
The new carts are fitted to be lifted by a hydraulic arm on the Village's new garbage truck, purchased last year. They are part of the Village's new Solid Waste Collection Bylaw, and are part of an effort to control costs and reduce waste by making users who generate more waste pay more. Both Valemount and McBride pay fees to the Regional District of Fraser Fort George for use of the transfer stations, which have gone up this year, and are expected to go up more in coming years, to cover the costs of dealing with garbage according to federal regulations.
Some residents expressed concern over what to do with their old garbage bins on social media, but many other residents have suggestions for re-purposing bins. Peter Fox says he is happy with the lowered fees associated with the smallest bin, and has a number of suggestions for uses of the old bins including using them for composting, as a concrete forms, to mix soluble fertilizers for gardens, for making compost tea, or to hold heat in a greenhouse, by filling them with water. He says this is especially useful in the autumn when nights get cold. Other suggestions offered were to use them as a shovel and rake bin, storage for things like bird seed and dog food, or for recycling. If you have bins you don't know what to do with, there are lots of people looking for some.