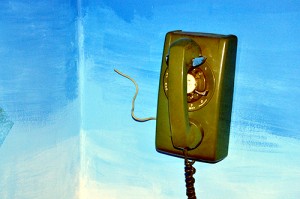 By Korie Marshall
Scammers are not just using toll-free or strange looking phone numbers to get you to answer the phone these days. They are using technology to make it look like you are getting a call from a regular phone number, even a local 566 number.
Liz Suave, spokesperson for Telus, says the two most common scams by phone are "phishing" scams, where callers try to get information from or about you, and "spoofing" scams, where they make it look like they are calling you from a different number.
One type of phishing scam is where auto dialers call to see which phone numbers get answered, at what times of the day. You may answer the phone and no one is there. But many people are ignoring 800 numbers, and technology is always evolving. Scammers have been using technology to hide the number they are calling from, and now it seems they can make it look like they are calling you from a local phone, like 250-566-xxxx.
A number of residents in Valemount have reported answering calls because they are a local number – only to be greeted with a recording, telling them they've won something. A large number of Airmiles seems to be a common one, but there may be other messages. If you listen long enough, it tells you to press 1 to claim your prize. The numbers calling vary, and some people report calling the phone number back to get either a "not in service" message, or an existing personal cell phone.
"Don't press 1," says Suave, the best thing to do is hang up. "If it sounds good to be true, it probably is."
She recommends educating yourself about scams and offer's Telus's website www.telus.com/scams as well as www.phonebusters.com, which directs you to the Government of Canada's anti-fraud centre. She says the biggest thing in safely dealing with potentially fraudulent calls is: if you do get a live person on the other end of the phone, get their name, number and organization, and give them a call back.
Suave says Telus has not seen any increase in complaints from their customers about this type of call, but they are not uncommon. They happen all across the country, and It is hard to know if these callers are targeting people with local numbers, or if it has just been random numbers calling all over BC and the country.
If there is an increase in fraud activity, she says Telus's security department does work with local law enforcement, and they welcome reports from customers. Their client care team can be reached at 1-888-811-2323 (land lines) or 1-866-558-2273 (cell phones).