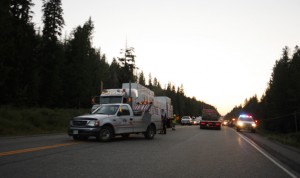 Two new safety projects in the Valemount area are part of $5 million invested this year by the provincial government for safety projects in and near B.C. communities.
One of these projects was the recently completed pedestrian path under the Highway 5 overpass at Swift Creek. The $20,000 project will improve safety by giving pedestrians and cyclists an alternative to using the highway.
The other project is the purchase of portable speed reader signs that will be used on the Highway 16 corridor from the B.C./Alberta border to Crescent Spur, and the Highway 5 corridor from Tête Jaune to Avola. The $22,500 project will see speed reader signs cycled through various locations starting this fall, to enhance safety and help control highway speeds. Permanent signs recently installed on Highway 5 on either side of Valemount and in McBride were part of last year's Safety Enhancement Program. The Ministry has chosen portable signs now because they can be moved to various work sites, parks and other locations.
"Safety improvements are always an important investment and both the pedestrian path in Valemount and portable speed readers for local highways will help protect pedestrians and motorists alike," says Shirley Bond, MLA for Prince George-Valemount. "We have seen the difference that improvements like this can make and I have certainly heard from my constituents about the need to continue to invest in safety measures like these."
The projects were chosen by the Ministry of Transportation and Infrastructure through consultation with local governments and law enforcement.