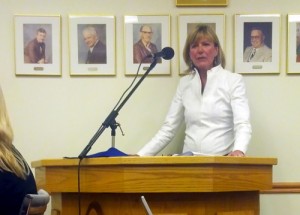 It appears Valemount's proposed Saas Fee condo development in the centre of town has hit another wall.
The Goat was not successful in contacting Shirley Sander by phone or email this past week about the Saas Fee bridge financing, but in an article in the Prince George Citizen, Sander said the deal is dead.
Sander had approached Council for a draft Development Agreement that she could bring to an Ontario financer to bail her out of her current financial troubles. Heeding legal advice, Council did not sign the document but provided an agreement in principle instead, in order to avoid potential lawsuits.
"It killed the deal," Sander is quoted in the Citizen. "No lender is going to accept an unsigned document."
Edmonton-based Sander bought her properties six years ago under her company Saas Fee Land Developments and has been seeking funds to build a 200,000 sq ft complex on 5th Ave. It is the site of the former Valemount Secondary School, and is currently a grassy chain-linked field spanning six acres. She says the global downturn of 2008 made investors reluctant, and stalled "Valemount Village Resort and Spa" known locally as the "Saas Fee" project.
If Sander is able to secure the bridge financing, pay her outstanding property taxes and acquire full investment for construction of the project, she says build-out will last 2-3 years, will provide a new tax base for the village, create jobs and attract new residents.
Sander is currently proposing 12-14 commercial spaces spanning 40,000 sq. ft and 181 condo units spanning 184,000 sq ft. She says the target of the condos will be visiting snowmobilers. When they are not using the condos, condo owners will have the option of using a rental pool to rent out their condo temporarily.
She told the Goat in May that not being able to acquire the bridge financing would be "disastrous."
By: Laura Keil