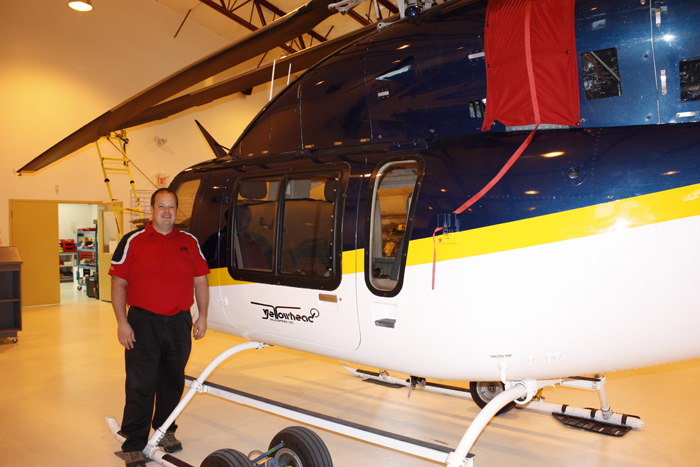 Yellowhead Helicopters has added their first twin-engine helicopter to their fleet, a Bell 427.
While it can't lift any more weight than their other helicopters, it allows them to meet customer demand for safety, says Yellowhead Helicopters Chief Financial Officer Carl Forman. The twin-engine seats seven passengers and is also faster than their other models.
There is increasing demand for helicopters with two engines from their clients, Forman says, in the rare case that one shorts out. He says it'll open new markets to the company.
In Yellowhead's history, there have only been three engine failures both with successful auto-rotations, and no one was injured. An auto-rotation means the helicopter blades continue to spin with their existing momentum until the helicopter can get to the ground. All three incidents were caused by foreign objects, not mechanical failures. The company's helicopters now have more filters to prevent air-borne debris from entering the engine.
They have also added a new Bell 206-04 Long Ranger that seats six passengers and has more power than other series. The extra power will allow them to carry more weight.
The company now has a total of 18 helicopters and close to 45 employees with some 23 pilots. About half of those employees live in Valemount, Forman says.
Yellowhead Helicopters has remained a private family company based in Valemount since the time it was founded. It has nine permanent bases and two seasonal ones at gas plants for 9-10 months of the year.
In the late 1960s to early 1970s, Carl Forman's father Garry Forman piloted helicopters in and around the Valley including many of the very first scouting missions with Mike Wiegele. In 1975, Garry Foreman purchased his first helicopter C-GYHL, a Bell 206 Jet Ranger and Yellowhead Helicopters was born. Garry Forman's other son Jacob Forman has become operations manager.
The Yellowhead fleet has shuttled celebrities such as Gene Hackman, Rick Mercer and Canadian politicians such as Prime Ministers Pierre Elliot Trudeau and Jean Chrétien.
While most of their flights are in BC and Alberta, they service companies and government across Canada.
They are certified to do rescues, avalanche bombing, power line construction, wildlife capture, mining and petroleum work, forestry work such as fighting forest fires and heli-logging and tourism such as heli-skiing, heli-hiking, heli-fishing and sightseeing tours.