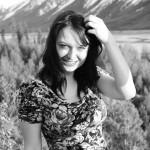 By Radka Zitkova
When I was a kid, my brother and I had a favourite hiding spot. It was a little forest about 15 minutes from our house. We would run up on a little hill and enjoy the panoramic view of our village. We could see all the houses, brown, green or yellow fields and clear ponds. I never took a picture from there but I remember exactly what it looked like and always will.
Whenever I visit a new place, I try to find a spot like that and take a mental picture of it. When I think of that town later, this is the picture that comes up. Sometimes it is an obvious one – the Brooklyn Bridge in New York City, the sunrise above Hagia Sofia in Istanbul or the reflection of the Fairmont hotel in Lake Louise. In Valemount, it is the peninsula on the 12th mile of Kinbasket Lake.
I simply love the view there and the sunset I watched there last Thursday was by far the prettiest one I have ever seen in my life. I will always remember that sunset and the sound of the waterfall – but also the metal scrap, dead trees and nails peeking from the ground waiting for someone to step on them.
Why is that stuff there? Why has no one cleaned it? Does anyone care? The mill, which used to stand there hasn't been operated for decades. It will probably never be operated again because the companies that used to run it don't exist any more. Everything that was of some value and was useful had been either auctioned in late 1980's or simply disappeared over night. Now it is basically a scrap yard and one old wrecked boat.
When I look at the place, I see two things. I see Valemount's past – the mill industry that I have been hearing about since the first day I came to the valley. But I also see a great potential. I see a group of friends sitting around campfire. I see a young couple drinking wine while enjoying the sunset and I see parents teaching their kids how to swim. I see a part of Valemount's future – the tourism industry.
Two years ago the Economic Growth Solution did a study on the recreational opportunities of Kinbasket Lake for an initiative based in Golden. Boating, canoeing, hiking and horse-back riding were just some of them. They realized that this could bring money to their town even if it would work only in the summer. It would improve the roads along Kinbasket and it would simply make the lake prettier. And what would that take? A proper clean-up, a nice campsite, some initiative and community involvement.
In the four weeks that I have been here, I have talked to many of you about this place. Some of you agreed with me, some of you told me that the metal scrap has historical value and some of you told me that this is the locals' place, your secret chill-out place and you want to keep it that way. But even then, don't you want to bring your kids here without the fear they will hurt themselves? Don't you want to play volleyball, frisbee or badminton here without jumping over rusty metal? If the companies didn't clean up after them, if the government didn't, why don't we? If not for our visitors then for ourselves. So next time there is a village clean-up, let's start couple kilometers south of the village. I know that we at the Goat will be the first ones to help.