After Canada was granted approved destination status by the Chinese government last summer, local hotels and tour operators have been vying to get a piece of the red pie.
After all, China has 300 million or so Chinese citizens who are considered wealthy or middle class, as well as 115 billionaires, which is second only to the U.S.
Now with approved destination status, Canadian tours can now market in China to the world's largest population.
But how to seduce the East?
The answer is as straightforward as the Great Wall is curvy.
While tourists from Taiwan, Korea and Japan have been coming through the Valley for some time, those from mainland China have been more elusive.
Alex Woo, who emigrated from China, has been running the China House restaurant in Valemount for a decade. He says the town needs to do a better job promoting what we have, such as hunting, mountain biking, helicopter flights and the salmon run. He says many asian tourists who wander into his restaurant know little about the area and are scared to venture out on their own.
"If you interest them, then they'll pay," he says.
Advertising the fact that wildlife comes right into town is another way to entice them to come here.
"They won't believe you," he says.
In terms of developments to entice Chinese tourists, Woo is firm: "Don't say 'small thing'. All small things stick together and then you have a big pot."
Myriam Paredes who manages the Ramada Hotel with her husband Omar says it hasn't been easy setting up new attractions and she has been frustrated with the pace of change.
"These people would come long way just to have a fire somewhere. We just have to do something in the village, a little thing, that's all. It doesn't happen."
"Who told them about water rafting? Who told them about sled dogs in the winter? Who told them about cabins? Who told them about the wild safari? Who told them about birdwatching? Who told them that there is a lake? Nobody."
28-year-old Hank Wu, a salesperson for a Chinese cable company based in Vancouver, was in Valemount last weekend with his wife and parents-in-law, after getting married last week. They were on a one-week trip ending in Banff.
"It's beautiful, the mountains, the air, everything is awesome."
But he says the town is missing commercial stuff.
"We got here at 6 p.m., we went out, we had kind of nothing to do. We were just hanging around and making some tea…We just went down to the gas station and back because there is nothing."
"We didn't see any signs where to go, or museum, nothing."
He says a coffee shop and viewpoints would be a good start.
"They would go all the way to viewpoints, take some pictures and come back. Right now we are just waiting for 10 p.m. to go to sleep."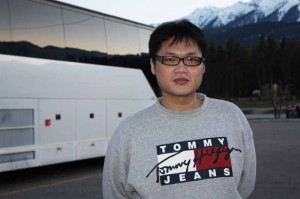 Tourism Valemount co-ordinator Jennifer Robinson says many of the tourists want to shop but little remains open at night.
"It's probably up to the individual businesses to be more accommodating," Robinson says.
She says she thinks it would be a good idea to have some signs translated into different languages and give hotels more information.
But offering activities such as horseback riding and campfires could be complicated.
Liability insurance could run high. Donna Duerksen with Underwriter's Insurance Brokers says many factors impact the cost of liability insurance including the experience of the person applying, where they are offering the activity, and whether they have existing insurance that will cover it.
The same issues of training and supervision would likely apply if the Village were to take something under the umbrella of their insurance.
But Duerksen says sometimes it can fall under existing insurance policies.
Gathering Tree owner Sherral Shaw says when she worked at Terracana Ranch Resort three years ago, they would have a "cowboy BBQ" which the asian tourists loved. They had a bonfire, roasted marshmallows and had staff wear cowboy hats.
"They'd go crazy and it cost nothing," Shaw says.
She thinks Valemount could renovate or build an old-time western block, then use the area to stage plays with local actors where tourists could take photos.
"They wants pictures, photo opps."
But she says the bottom line is to get them to stay longer and explore more.
"We need to give them an incentive to stay for a few days," she says.
Being open late is not the only answer, she says. When she kept the cafe open late during her first summer, she says she had no asian tourists dropping in.
"We thought they'd come in at least for a coffee or ice cream," she said.
Sandy Cheng of Taiwan, a tour leader with Cantop tours, says it's important to have more lights so the tourists are not afraid to go out at night. It would also be good to offer local products for sale.
She says for many of the Taiwanese on her bus there is a language barrier. Few menus or signs have been translated into other languages, or offer pictures.
"As tour leader I am always busy translating," she says.
She says activities the tourists would enjoy would be a Canadian food cooking lesson or learning the steps to a traditional dance.
Premier Lodge owner Ali Merali says he was thinking about translating menus and signs but they don't have the time right now and often the 'asian' tourists are actually based in Vancouver and speak good English.
"They don't have many questions. There is not much interaction. They come, they eat and they go to sleep."
He says they have many Chinese tour groups this year. The hotel works with a dozen companies including Chinese, Korean, Malaysian, Singapore, and Indonesia.
"They come here to see how we make marshmallows, how to do Canadian real hotdogs, how to do a campfire and drink lots of beer called Kokanee."
He is trying to cater to Chinese tourists by offering asian food and karaoke – but the tours usually only stay one night, which doesn't leave much time.
Valemount Best Western Inn and Suites general manager Christine Latimer says the packages are mostly pre-planned a year in advance, which doesn't leave much leeway for tour guides to take the guests on impromptu outings. But she says having more commercial outlets – such as gift shops – as well as a tea house that is open late, would greatly improve their experience.
She says they tried to offer more information about the village to some tour groups in the past, but she said most tourists were interested in doing their own thing or settling down for the night.
Compared to five years ago, however, the hotel has more 2-night asian tour groups, as many of them are taking day trips to Mt. Robson and returning in the evening, instead of spending the second night in Jasper where it's costlier.
She says getting Chinese tour companies is a very long process, one the hotel is still trying to navigate.
One of the most important things is for the hotels and motels to work together, share information and share customers, she says.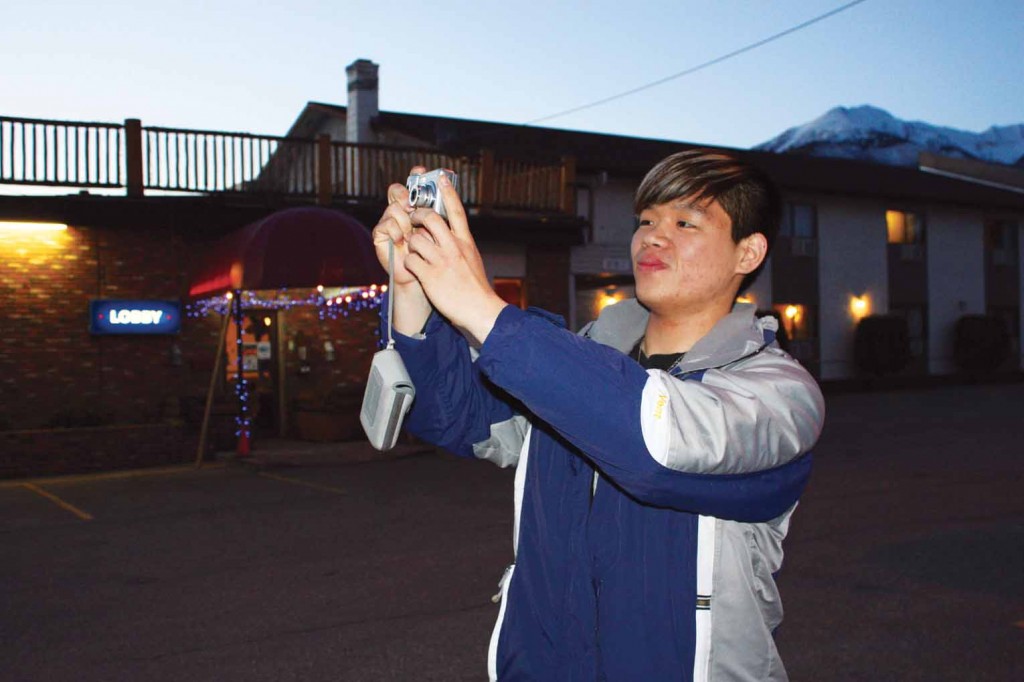 Mitchell Wu, 23, from Taiwan, is a salesman for a Japanese food company who was in Valemount last weekend. He said the town really needs something that will be unique to the area.
"Every place should have their own special thing, something local that isn't anywhere else. That would be really interesting"