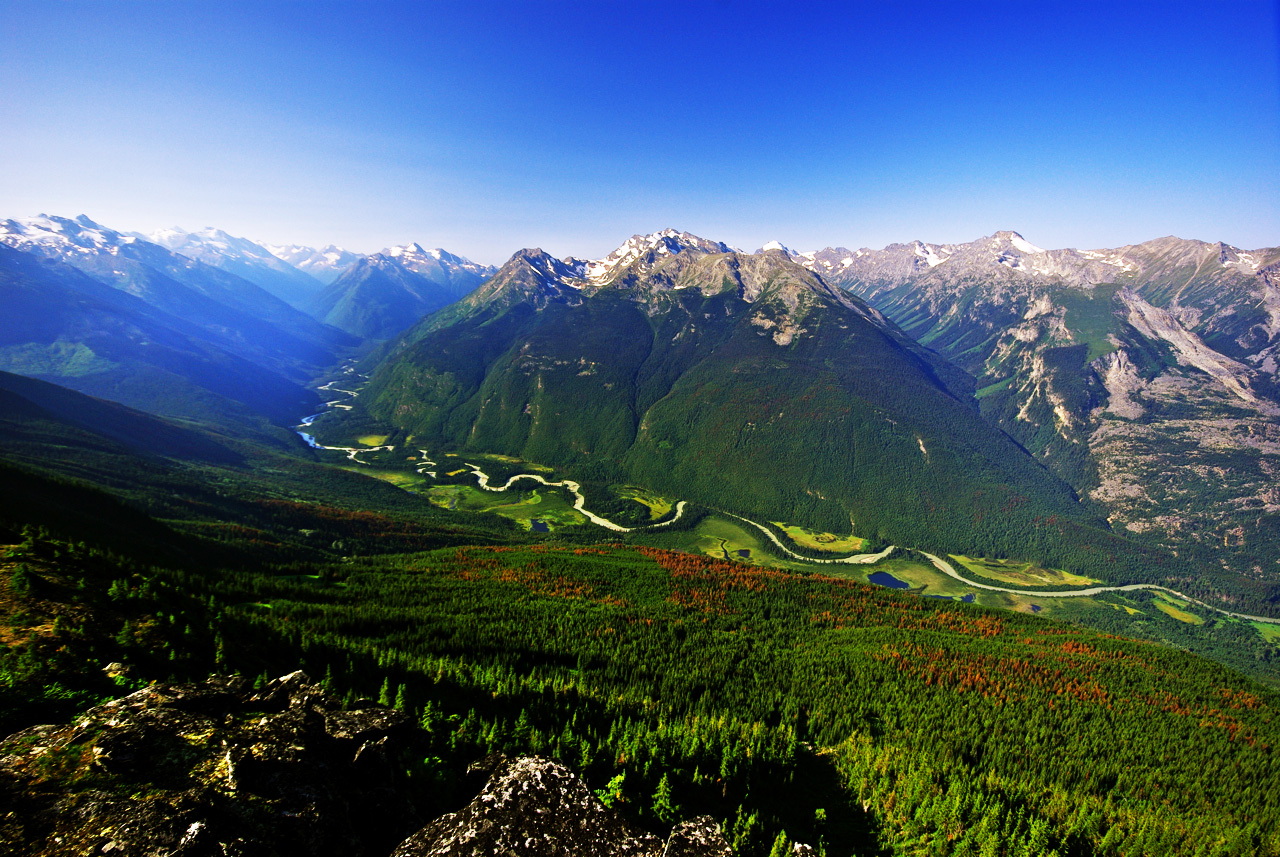 Every year Chuck McNaughton traps and hunts up the
Raush River Valley in the Caribou Mountains near his
home in Dunster, but he says one of his favourite local
hunting grounds may be under threat of over-hunting if
the proper regulation is not enacted soon.
He says he began wondering about what the government
had done to protect wildlife in that location. There
is good moose habitat, he says, but it is very limited access
because the valley is narrow.
McNaughton looked into it and found out that nothing
had been done to assess the impact of more hunters
in the area. He says he thinks there should be a limited
entry draw or something similar to the McGregor and
Morkill river valleys where there is no motorized hunting
allowed.
As far as he can tell there has been no on-the-ground
work done by any biologist to assess the threat of developing
motorized access.
"I was told that they do not worry about that anymore
because anytime hunting regulations are going to change,
they have to have people from the public first raising
concerns. If the public is concerned, they should direct
letters to the Fish and Wildlife section head in Prince
George," he says.
"This really concerns me. If they open that new road
with no restrictions, it is just going to be a blood bath. I
am not anti-hunting, but this is the reality."
Part of the problem is the government reviews its policies
for wildlife management and associated hunting
regulations only every two years. In the case of moose
hunting in the Omineca region this review, the Regional
Wildlife Management Process, will begin in the late fall
of 2011, says David Currie, public affairs officer with the
Ministry of Natural Resource Operations.
He says there are no automatic changes to hunting regulations
for a newly opened area versus hunting in an existing
area. In all wildlife management, government must
balance the interests of many interest groups.
Currie says the review process includes consultation
with all stakeholders, including First Nations, resident
hunters, guides and ranchers.
"In this case, the government would have to examine
the extent of the problem and possible solutions that may
be at hand before deciding on a course of action such as a
new planning process or a simple regulation change. We
encourage all local input into this matter."
Another Dunster resident, Vince Lorenz, manages the
guided hunting tenure, which includes the Raush Valley,
as part of his business Vince Lorenz Outfitting. He says
that either access to the Raush should be restricted or the
number of tags issued for that region should be reduced.
Lorenz says the moose of the Raush will be sitting ducks
since they are not used to any sizable amount of traffic
other than the odd horse or river boat party.
"That feeder road coming in from Castle Creek will
lead to great numbers of moose leaving the Raush Valley.
They will follow the road out into the main valley. This
will make them sitting ducks for truck seat hunters, especially
in the first couple of seasons," he says.
"When they first put roads up these valleys, such as
Horse creek, the moose suddenly just left the valleys.
They followed the roads down into the main valley where
they were shot or hit on the highway. These moose where
completely unaccustomed to human interaction. The
populations up these opened valleys have never recovered
to what they used to be."
For Lorenz, the Raush is not an exclusive hunting
ground since anyone can access it with a river boat or
horses if they desire.
"A few local guys have always gone up the Raush in a jet
boat – this is fine. Restricting road access will not affect
these local guys who have been doing this for decades,"
he says.
"We are worried about the guys who are shooting
moose right from the truck passenger seat."
Lorenz says the moose naturally filter up and down
between the upper and lower Raush depending on the
snow pack.
"It would be a really good
idea just to keep the valley
closed to easy access.
If we get too many people,
it will definitely just start
looking like a traffic jam. It
has worked out well in the
Morkill. There are certainly
more moose remaining up
the Morkill than the Beaver."
"There are so many
roads punched in already,
I would certainly support
keeping this one closed."
Terry Kuzma, Woodlands
Manager for Carrier Lumber Ltd, says the road construction
headed up the Raush Valley has just started to turn
the corner from the main Robson Valley, and there will
not be any road construction further up on the west side
of the Rausch Valley until well after this summer.
"A lot of questions in terms of timing will be determined
this summer based on when we can get a new road permit
and what contractors may be available to us," he says.
He says that as far as road access is concerned, these
regulations are developed by several different provincial
ministries.
"Access management would have to go through a planning
process with the Ministry of Forests District Manger.
Carrier would not take unilateral action to control
access into the Raush. This concern should be directed
towards the Ministry of Environment."
Kunzma points out that there is the other side to the debate.
He says that some have already made the argument
that the Raush Valley should not just be kept as a smaller
group's private hunting grounds. For this reason, Carrier
will ultimately follow the direction of the Ministry of Environment
which will allow all people to voice their opinions
on the matter.
"The Minister, at the end
of the day, will make that
decision, not Carrier. That
is why we have governments,
to make those kinds
of public policy decisions."
Kuzma says that the plan
is to harvest mainly lodge
pole pine with some potential
for spruce as well. Most
of the timber harvested so
far has been smaller lodge
pole pine for saw-log supply,
which historically
would not have been used
at the old MFI veneer mill
because it is not a high enough quality for their product.
He says any pre existing wildlife management plan for
the Robson Valley had to be considered when they applied
for a cutting permit.
Meanwhile Chuck McNaughton is not hesitant to call
the current government's process inept.
"I am absolutely astounded that a government would
open up a new area to logging without first addressing
the impacts it will have on wildlife. This should have been
sorted out long before issuing the road permits. It is absolutely
bizarre," he says.
"I am a redneck farmer and I think this is absolutely
nuts! I am a trapper and a hunter. I am not against hunting
in the Raush, but I think it has to be controlled. To
not even send a biologist up there to take a look first
seems absolutely nuts."
For McNaughton, the changes in the air go much further
than simply opening up the Raush Valley to local
motorized traffic.
"Last fall we had the highest number of hunters here in
Dunster we have ever seen," he says. "Everybody wants a
new area. As it is going right now, there will not be a thing
left standing up there. Many of the hunters were not even
local, some were all the way from the lower mainland."
He says his father moved to the valley in 1920 and this
is the first year they have ever had trouble with hunters
on their private property.
"I feel that this is an indication of the future for sure."
Provincial Fish and Wildlife programs has seen substantial
budget cut backs province wide in the last 10
years. The Robson Valley's Conservation Officer position
was eliminated during this period. A conservation officer
out of Prince George is now responsible for managing the
Robson Valley.
McNaughton feels that the Ministry is being a little
bit cautious because they got flak when they closed the
Morkill to motorized hunting.
"Some people thought it was unreasonable to expect
them to walk up a road to hunt moose, but if you check
the difference between how wildlife are managed up
there and the Beaver Valley where hunting is wide open,
there is really no comparison."
McNaughton feels that the process which is currently in
place is inadequate, and timing is of the essence.
"The problem is that they only review hunting regulation
every two years. I am really concerned that the road
will be in well before then."