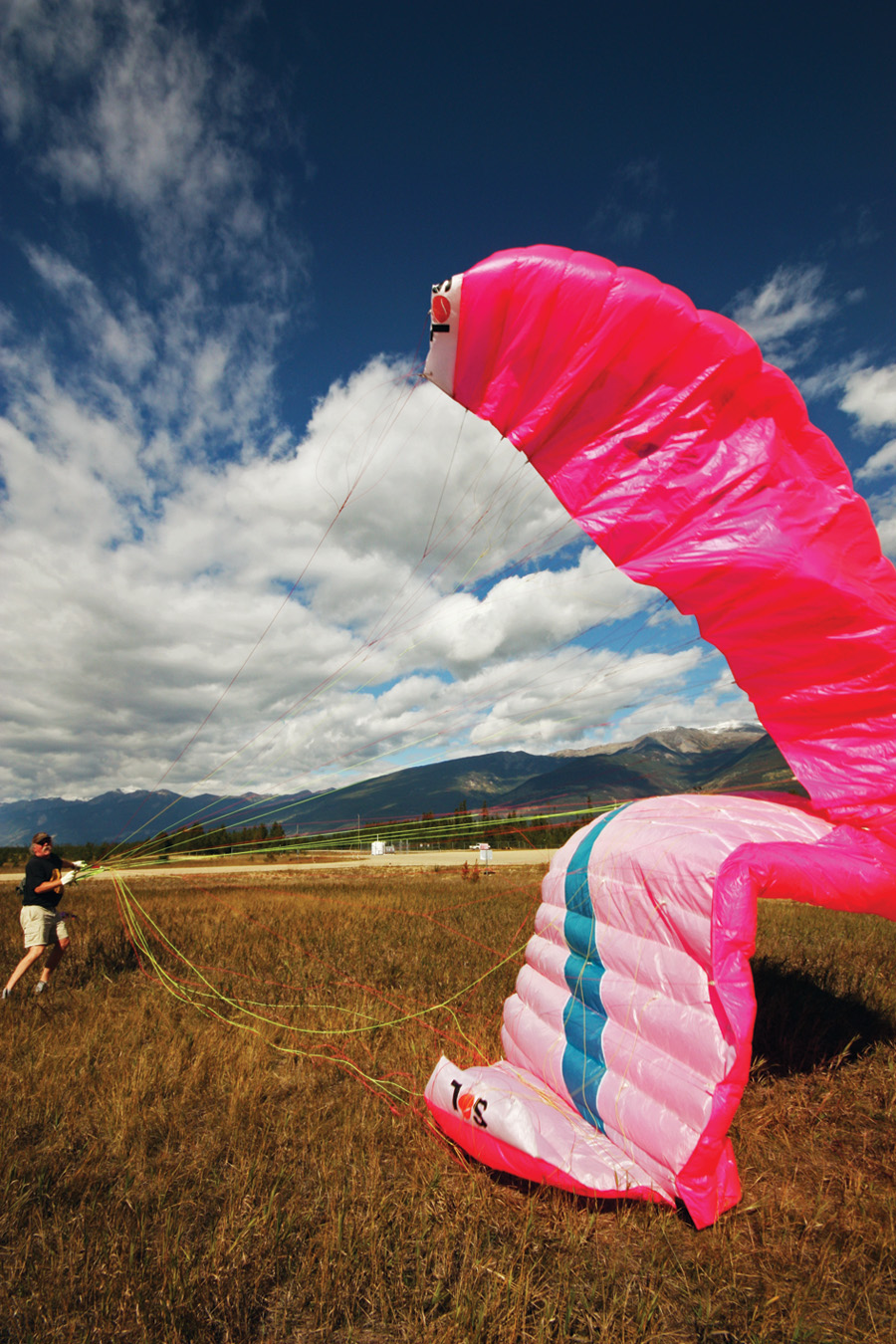 He took his first lesson one year ago, but Valemount resident John Grogan says that he is in no rush to get into the air before he has mastered the fundamentals of his new sport. But Grogan is already seeing the huge potential of paragliding in Valemount's end of the valley.
"I was on top of Five-Mile the other day looking for a future launch site. Canoe Mountain also looks good to me," he says. "It would be nice to get a club or association to build a launch site."
While he has yet to run off a mountain and let his feet dangle free, Grogan says that he will continue using the open winds of the Valemount airport to practice his ground work, and he looks forward to launching sometime in the near future.
First developed during the mid 1980s, paragliding has become one of the fastest growing sports worldwide. It is hugely popular in Europe and Japan. But it hasn't caught on as quickly in Canada.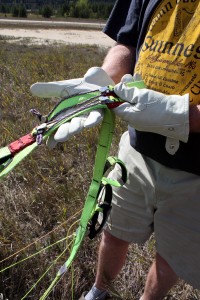 Ben Blixrud of McBride has lived in McBride since 1972 and has been paragliding for seventeen years. He learned to fly in Cochrane Alberta.
"On McBride Peak we can launch if there is a wind going either way," he says.
"There are three active members here in McBride. Five to six years ago we used to get quite a few paragliding tourists. It seems that lately everybody is just going to Golden to fly."
Blixrud says that Golden B.C. has really embraced the sport, and facilities have been built to attract international gliders.
"A gentleman from Europe just fell in love with the place and he bought the landing site and turned it into a campground. They have one basic launch site you can drive to and one hike in launch site."
Blixrud says that Golden has always had a strong local culture. If locals do it, the tourists usually catch on as well.
"In Smithers they used to have a lot of locals, but as they moved away, less tourist gliders came. It's way better if you can do it with a group of people."
While the valley does not have a huge local culture, Blixrud says it has many natural mountain features which make for a great gliding experience.
"There are a couple of sites between McBride and Valemount that could make good ridge soaring. One guy has launched from McBride and landed in Valemount after going by Mt. Robson. There is good potential for cross country here."
Blixrud says that other than the large gap between McBride Peak and the Homes River, which is only crossable in ideal conditions by experience gliders, the continual ridges paralleling the valley could make hosting a paragliding competition possible. In such a competition, gliders launch in a mass start. Three to five waypoints are predetermined. The first glider to reach all waypoints and land wins.
"We would need a good launch site to mass start. McBride Peak is great; we launched twenty-five gliders for a fly in once. Valemount would need this too. When we had our fly in years ago, it was really cool. There were people on Main Street in their lawn chairs looking at all the colours in the air."
He says that down in Golden it is like this all summer.
Glenn Derouin owns and runs Paraglide Canada, a training school near Vernon B.C. where Grogan took his first lessons. According to Derouin, the Robson Valley is likely the perfect spot to become a paragliding destination with the proper facilities.
"You do not necessarily need a high launch site, it just needs to be the right aspect. South, southwest, facing the sun. It needs to be high enough to catch thermals and close enough to a safe landing site. You need a launch that is safe and a landing that is safe."
Derouin says that ideally a launch is on a slope, but not too steep.
"You need to be able to take three to five steps and still be able to shut down and abort. You don't want a cliff to jump off of. A rounded knoll is what you want."
He says that he is familiar with Canoe Mountain and while this site does work for hang gliders, it is likely too high for paragliders due to the stronger winds at such high elevations. He adds that even cut blocks can make a good launch site.
When asked if he would come help determine a suitable location for a future launch site Derouin jumped at the invitation.
"For sure we could come out with guys from our club and check it out. We could see what the valley has for potential."
Derouin says that he encourages anybody who is interested in the sport to pursue their interest.
"It is like motorbike riding. If you do stupid things, stupid things happen. You can also fly safe for 20 or even 30 years."