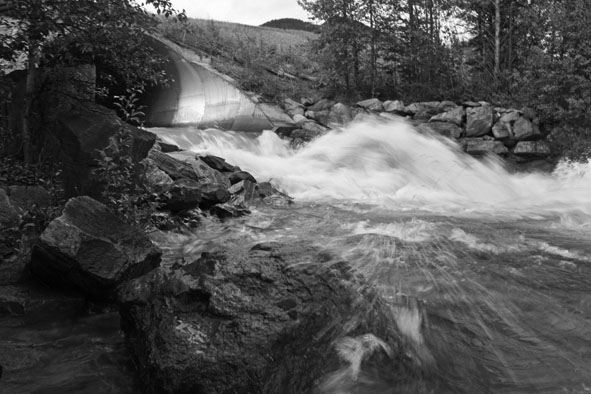 Construction on a new bridge on highway 16 between Valemount and Dunster will slow traffic this summer, but the end result should be a boon for fish and wildlife.
The bridge will span Small River, a 20-metre wide stream that is currently funnelled into a pipe before making it to the other side. Since the highway was built in the 1970s, fish have not been able to overcome the force of the water funneled trough the pipe. The idea is that fish such as salmon can use the water north of the bridge for habitat.
Once the bridge is completed this fall, the river will no longer narrow at the point of the bridge. The plan also includes a wildlife passage, something Paul Tiefensee who is overseeing the construction work says is important.
"There are way too many animals struck on this road," he says. "Bears, deer and moose are all crossing right now on the main highway."
The $3.3 million project is primarily to fix the pipe that channels water from one side to the other. The force of the escaping water has created a large hole in the stream bed and eaten away at the soil under the pipe. If nothing is changed, the pipe could slip from its position and into the hole.
Construction on the temporary one-lane bridge should wrap-up this week, but the end-date for the permanent bridge is not until the end of October.
The contractors are using locally-supplied gravel and have hired several people from McBride and Valemount for grating, trucking, excavating and flagging.