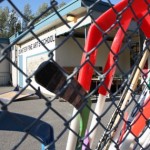 Residents occupying Dunster school for the past week packed up on Friday after an injunction from the Supreme Court of B.C. demanding them to leave the premises immediately or face criminal charges and forced removal.
The injunction was sought by the Prince George School District after parents and community members began their occupation on Monday, the last day of school. Several dozen residents had occupied the building since Monday, and said they had no intention to leave until a deal was reached with the school district to keep the school open for local education.
Julie MacDonald, the parent who organized the sit-in, said they will continue to lobby to keep the building open for the people educating their children in Dunster.
"I don't think anyone's willing to give up this school – the actual school building."
On Thursday, Brian Pepper said there could be no reversal of their March 30th decision to close Dunster Fine Arts School.
Prince George-Valemount MLA Shirley Bond says she would like to see an innovative approach to rural schools. But she notes that school districts across Canada are dealing with similar rural school closures and there are no easy answers.
Some 30 people arrived June 28th to protest the closure of the two-classroom building, and several have stayed overnight each night this week in the gym which was left unlocked.
They had originally intended to prevent the lock-up of the classrooms, but teacher Joel Zahn locked the doors by 3:30 Monday, before most people had arrived.
On Tuesday residents occupying the school were served notice by the Prince George school district to leave the premises immediately. The letter was posted in the window of locked doors leading to the classrooms.
Community members held a meeting in the school gym Tuesday and created a new group called Dunster Fine Arts School Alive. The group would work in conjunction with the parent advisory council, which has accepted several thousand dollars fundraised for local education.
On Thursday, school district superintendent Brian Pepper arrived at the school to deliver another demand to residents occupying the school grounds to leave. The letter stated the school board is seeking an injunction from the Supreme Court of B.C. to allow police to remove residents by force if necessary.
MacDonald says the next step may be to protest in front of the Minister of Education's office in Vancouver.
"We're just asking to keep the building, which isn't asking too much, seeing as it's sitting here anyway, empty, with the heat on," MacDonald says.
Last Thursday several hundred community members gathered for a farewell celebration of the school. After the potluck, the students sang a song they wrote with their teacher Sharon Stearns. The song included memories of playing outside, getting stung by bees, making art and how everyone at Dunster school knew each other's name.
Principal Kairyn Jeneke stood by the wall as each student added their memory to the song. After it ended she clapped and seemed to choke back tears.
Aeron Williamson an educational assistant at Dunster school says it has been an emotional time for both staff and students.
"There are tears and it's hard. It's hard for us trying to hold it together but also acknowledging that it's ok to cry."
"They've said they're sad that the school is closing and they're worried about their friends and where they are going to go, and their parents don't know."
Williamson's family is moving to McBride. Her son Owen finished Kindergarten at Dunster school and will begin Grade 1 in McBride. She says the commute is 45 minutes by car to the new school from their current home.
"He's only six, so it'd be way too long," she says.
The children showed off some of their work from the three-day arts festival at the school last week: photographs, willow art, drama, song writing, and other arts. Some of the visual arts were on display in the gym and in the school hall.
Terri Lewis, mother of students Jessica and Derrik Lewis, both 12, says her grandson would have been the fourth generation to attend the school.
Her two other children, Joanna and Lorrie, went to this school from kindergarten to Grade 7. She says it's sad to see the school close down.
"We'll lose that sense of belonging, because the school is the centre of anything that goes on," she says.
The photography is one example of the special activities at the fine arts-focussed school.
"Parents can come in and wander around and see how their kids are doing – it's family."
She says she was one of many people to write letters to governments to try to keep the school open.
"Everybody's worked hard and put a lot of effort into keeping it open, and doing all the letter writing so we'll just have to wait and see."
The tables, chairs and other school equipment is slated to return to the Prince George School District or McBride says Joel Zahn, Grade 4-7 teacher. He will be teaching at McBride next year, along with other staff.
Enrollment has been roughly 30 students from Kindergarten to Grade 7 for the past decade. This year, the school had two full-time teachers, two part-time teachers, along with TAs and parent helpers.
While the school had three split classes parent MacDonald says it made the children stronger in character.
"You get the older children playing with younger children. And they're teaching the younger children without even knowing it. They're having fun."
"I think it's important for the children to stay together with the other children they've grown up with."
She is one parent who is not not giving up the option of educating her children in Dunster. MacDonald says she plans to home school her children next year.
"It's not an ideal thing at this point, but we really feel like we've got no options," she says. "I have a lot of family here and that's what we plan to do is to exchange and trade and share. I think it's our only hope at this point."
She says family members have volunteered one day per week to teach a group of children locally.
"It is amazing. I think they've seen what this type of an education or a lifestyle that this school has provided."
She and her husband brought their children to Dunster partly due to the presence of family and partly due to the good school.
"We realized the city was not for raising children," she says. "I asked my daughter, 'Carrie, where do you want to go to school?' She wants to stay here as long as she can. To me, that's fine. I can provide that."
Watch an audio slideshow of Dunster students singing a song they wrote with Sharon Stearns at the Dunster school farewell gathering June 24