By Andru McCracken
---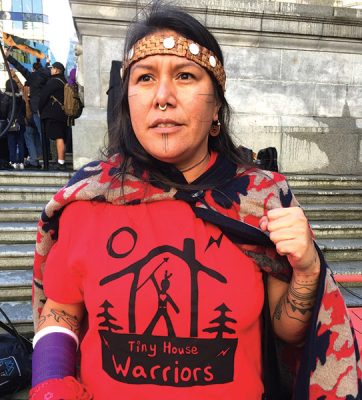 The Tiny House Warrior Kanahus Manuel and another protestor named Isha Jules were taken into custody on October 19 and spent the weekend in jail after an incident near Moonbeam Creek, about 30 km south of Valemount.
The pair appeared in court on October 21 with conditions until their next court date on November 4.
A press release from the RCMP said their Community Industry Response Group members were on patrol near Valemount when they met a road maintenance crew repairing asphalt to Highway 5 near the Moonbeam Bridge.
"The maintenance crew said they had been disrupted and were being intimidated as they set up a work zone," reads the RCMP account.
During the arrest, RCMP said Manuel was uncooperative and complained of injuries.
"She was assessed by Emergency Health Services and taken to hospital where she was cleared for custody with no noted injuries," said the RCMP press release. "All aspects of the arrests were captured on video by police and will be included in the materials provided to the courts."
BC RCMP say they are impartial.
"Demonstrators have a right to lawful, peaceful and safe protest and the employees and contractors have a right to safety and security as they go about their lawful business," they said. "The RCMP is working hard with all sides to ensure that both of these rights are protected. Allegations or complaints of criminality will be investigated and charges will be pursued."
A press release from the Tiny House Warriors reports the same incident, that the pair was charged with mischief and intimidation for telling a road maintenance crew they had no Secwepemc consent to work.
But Manuel alleges her wrist was broken during her arrest.
A video on Kanahus Manuel's twitter account (@kanahusfreedom) provides a first-hand account of another occasion (September 30). This was between Manuel and two workers near the Blue River Trans Mountain yard, close to the Tiny House Warrior encampment where Manuel is based. In the short video clip Manuel slowly approaches the workers while keeping up a stream of dialogue.
"Oh this guy, he's a big strong guy. He's your back up? This white honkey is your back up, huh? A rapist. That rapist is your back up, hey? Sick pathetic losers. Sick pathetic losers. Sick pathetic losers."
The male worker asks Manuel if he can help in some way.
But Kanahus continues talking.
"You pedophile and rapist of the Mother Earth, you are going to have so much bad Karma on you. I don't even know where your kids go to school."
#TransMountain pump station in Blue River pays native woman money to guard its infrastructure. TMX has no Secwepemc consent for this pipeline to pass pic.twitter.com/pxllJZQygY

— Kanahus Manuel (@KanahusFreedom) October 1, 2019