By Andrea Arnold
---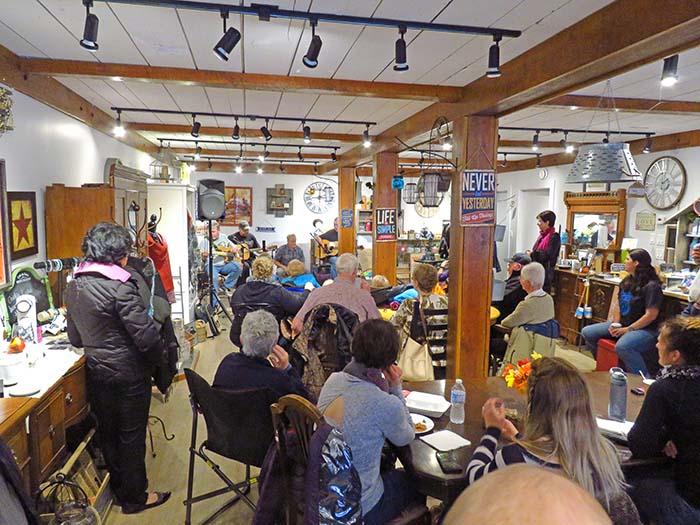 Welcome Home Gifts & More will be donating $1000 to the BC Cancer Agency Centre for the North in Prince George on behalf of McBride, in memory of Bonnie Chiupka after a successful coffee and music afternoon on Saturday.
Chiupka passed away on November 15, 2008 after a nearly 2-year battle with lung cancer. Her son Kevin and daughter-in-law Fran had the idea brewing to do something special to honour her on the 10 year anniversary of her passing, and this last February when they purchased Welcome Home in McBride, the idea of a music and coffee event was born.
"Bonnie always loved having coffee with friends, and because I am in a band we thought having an afternoon visiting with friends over coffee and live music while raising money for such an important service in the north was a fitting way to remember her," said Kevin.
This was not the first fundraising event Welcome Home Gifts & More has hosted, nor will it be the last. Earlier this fall they hosted an event to benefit the music program at McBride Secondary and they hope to host similar events every couple of months to bring the community together and support different groups in need. They plan to host this particular coffee and music event annually and funds collected will continue to be donated to the cancer agency in Bonnie's name.
The money donated came from the donation jar on site during the afternoon, (coffee by donation) and through e-transfers as well as advanced donations from people unable to attend.
Kevin was touched by the turnout. "We had no idea what to expect today, and were pleasantly overwhelmed with the love and support the community showed! It was standing room only; the coffee was flowing, hands clapping, feet tapping. Mom would have loved it."