By Andrea Arnold
---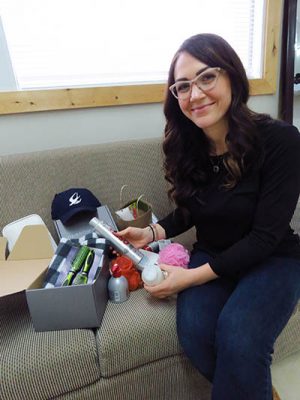 Michelle Gredling loves Christmas, and has put into motion a project she hopes will help other women have a joyous season as well.
"It breaks my heart to think people have nothing Christmas morning.  Especially moms.  They deserve special things.  Things they would never spend the money on for themselves."
The idea of these Christmas boxes started when Gredling was looking for an organization to accept her donations in Prince George.  When she didn't find the type of program she was looking for, she decided to take on the project herself.  While living in Kamloops, Gredling had witnessed a program that helped women in unfortunate situations.  She has fashioned her idea to focus on the same demographic not only here in the valley, but also in Prince George.
Donations collected here will stay in the valley and be distributed through Robson Valley Community Services.  She has arranged with friends in Prince George to collect donations for her, and the boxes created there will be handed out, hopefully through the Phoenix Centre, to expectant mothers who are homeless, or in transitional housing.
Michelle has been amazed at the generosity of the community so far.  Word of mouth and social media have proved to be effective mediums.  "I even had people giving me money to purchase items for the boxes, when they see me on the street."
She asks that any donations are new, unused and unopened.  "Often the basics are covered for these women, but they don't receive anything special.  So a rule of thumb is to donate anything you would be happy to receive Christmas morning."
If you want to help Gredling reach her goal of 20 boxes this year, she can be reached through Facebook or by phone/text 780-236-4222.  She is accepting donations of items, gift cards or cash until Tuesday November 6.