By Andru McCracken
---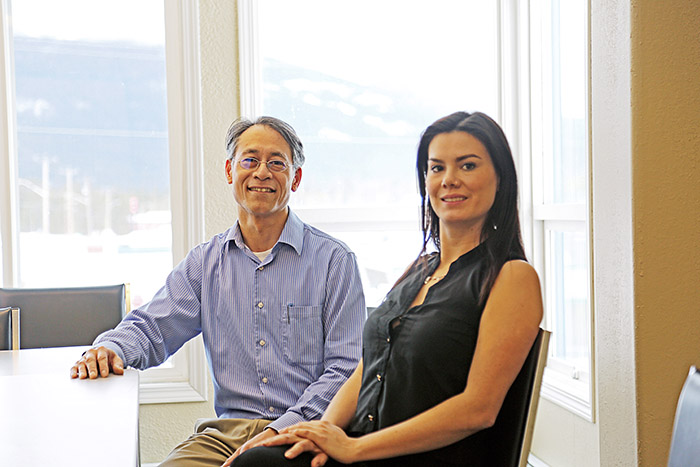 Eric Kromhout and his executive assistant Ruby Hogg are getting things started at Valemount College with some workshops and an approved curriculum for full courses is on the horizon.
The first educational tourism workshop will begin March 31 called Springtime in the Rockies.
Students will learn to spot animal signs, improve their photography skills and gain an appreciation of signs of spring as they show up in the Robson Valley.
"Students will actually go out into the field and explored in real life and look for tracks and look for signs of wildlife," she said.
Hogg said they are packaging tourism experiences and products to showcase what the valley has to offer, whether it be a helicopter ride, dog sledding
Kromhout said other programs will be longer in duration and have people stay between three and five days.
The initial package is aimed at people from Edmonton and is catered towards families.
"Essentially we are creating these programs to increase tourism in the community and show how beautiful our little valley is," said Hogg. Hogg said it will be challenging recruiting students on short notice.
"We're hoping that people will stay for probably three to five days," said Kromhout.
He said it's aimed at people who want to get out of the city and enjoy time in the mountains.
The package includes lodging, some meals, workshops and a 12 minute helicopter flight for $324.
Hogg said they plan to target families with kids older than 7.
Another short course in the works is called Improv in the Mountains.
Kromhout said these programs help build up the college's name while they have their college programs approved by the Ministry of Advanced Education's Private Training Institutions Branch.
Ultimately the college hopes to offer four post-secondary programs: The Mountain Adventure Tourism Program, First Nations Cultural Tourism, Tourism Administration, Rural Entrepreneurship and Small Business Management.
"Our mandate is to help develop Valemount economically," said Kromhout. "For example, the Tourism Administration Program is going to help the local businesses obtain and retain staff."