by Andru McCracken
---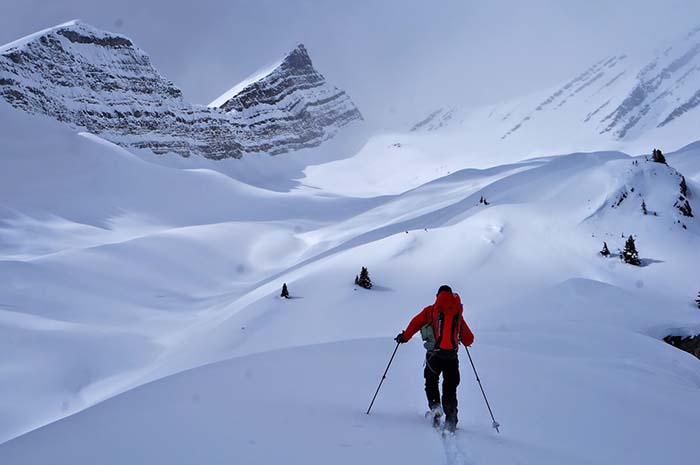 If you thought ski touring was weird – hiking up a mountain slope to ski down it just once – consider the upcoming Ski Mountaineering race to be held at Marmot Basin on March 17th.
Contestants will be racing up and down a preset course all over the mountain on their skis, at times with skis strapped to their backs. This all happens right beside fully operational chairlifts.
Alex Stieda brought the ski mountaineering race to Jasper.
He recently got into the sport, and wanted to have a race closer to his Edmonton home.
The race is being dubbed Marmot's Revenge.
Stieda said so far interest is low, but he says ski-mountaineers are notorious for signing up last minute. He said potential racers shouldn't fear the avenging rodent.
"People may think this race is just for hard core athletes, but we have a recreational course that is half the distance and half the elevation," he said.
Experts will find themselves climbing 5,400 feet of elevation.
The race time is four hours.
Just to put that into perspective, it's like climbing a 500 story building wearing skis, poles and safety gear.
"It's a great challenge," Stieda said. "It's a way to challenge your body (in a way) you may not have done before."
People who sign up for the short course only need to climb 3,000 feet.
"It's a supportive, fun environment," he said. "Kind of a triathlon on skis."
Stieda said it's not just a slog either, as athletes transition between ski-touring up and skiing down.
"You have to be good at boot packing. Skiing downhill is another skill that you need to do well.
You have to be thinking about what is next and how you will get better," he said.
For local folks who are interested in participating, Stieda said that boot packing is a requirement, so entrants need a way of attaching their skis to their backpack (carrying skis in hand won't do), and they also need avalanche gear (a probe, shovel, and beacon).
For David Dornian, an official at Ski-Mountaineering Canada, the appeal is obvious.
"When is the last time you got to walk straight into a ski race and throw down with the national team members?" he asks.
He said it's typically possible to just walk up to registration on the morning of the race and get a bib number.
Dornian said ski-touring, and ski mountaineering races, are blowing up.
"It's a big year for us across western Canada," he said. "There is increased popularity in endurance sports on a citizen level across a lot of things: Mountain bike racing, trail running."
"Ski-mo is a big interest for people who find themselves in the Canadian winter."
He said it takes a fair amount of skill but isn't too brutal on your body.
Ski mountaineering, is a not super high-profile sport, so you may not know that a local man named Reiner Thoni was the North American ski mountaineering champion in 2012.