by Andru McCracken
---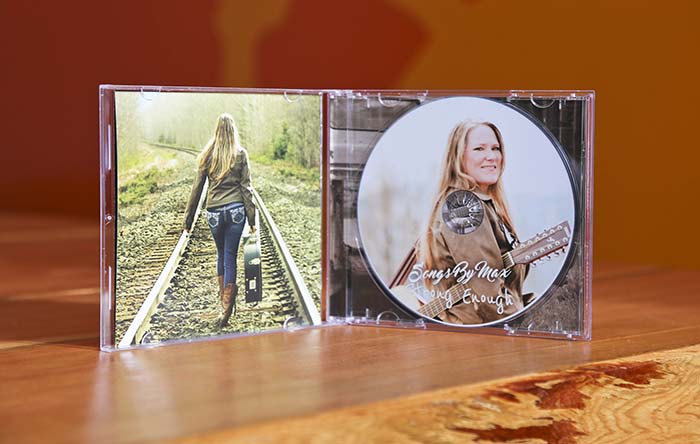 It took some doing, but Maxine Martens has released her first album called Strong Enough. It was recorded at a music studio in Grande Prairie near her home in Beaverlodge, Alberta.
Martens grew up in McBride and her father worked at Ziedler mill. Today she works for a seedling nursery and helps her team grow 11 million trees every year.
"My parents were always musical," said Martens.
She said music was a part of her life from early on.
"My mom would get us up to the piano every day and say, 'Sing your heart out!', so we'd get up there and sing twice a day with her at the piano."
"It was an old player piano and it was pink. Dad didn't like the colour so he painted it brown," she said with a laugh.
Later Maxine took an interest in her dad's guitar.
"I just wanted to play guitar like he did, because he kind of played like Johnny Cash; he had a good rhythmic beat," she said.
When she turned 19 she started writing songs for real. And she has included some of her earliest songs on the album. Her songs fall in the country genre.
In 2014, almost 20 years later, she decided to travel to Nashville.
"It was a wonderful time, but it wasn't in my heart," she said. "There is a lot of desperation there."
She decided to try and record as locally as possible and that's when her son-in-law found her a recording company in Grande Prairie.
The album was recorded and mastered over three years.
"It's been a long journey but a good one," said Martens.
She said she chose the songs that were most meaningful to her in this moment. That meant including her children's favorites as well as songs that honour and thank her parents.
Martens has battled cancer and that's reflected on the album too.
"The last song on my album is for anyone with any kind of battle," she said.
Martens hopes the songs inspire listeners.
"Believe in yourself. I'm an old granny, I'm not a young chicken and I didn't quit," she said.
For now CDs are available to family friends through her mom in McBride, but Martens is hoping to have them released in stores throughout the valley soon.