by Goat Staff
---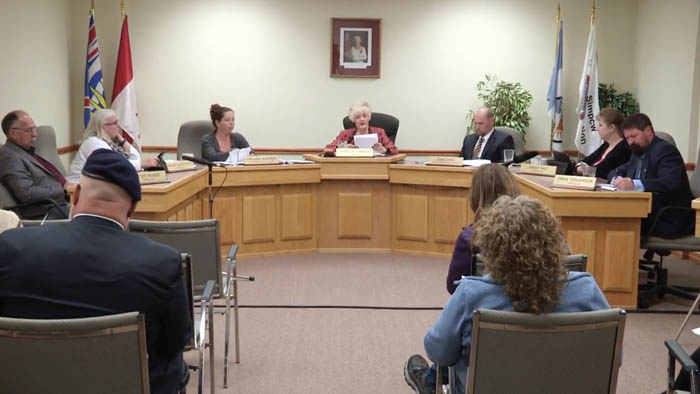 Mayor Jeannette Townsend, councillors Hollie Blanchette, Sandy Salt and Owen Torgerson met for the first regular council meeting in 2018 on January 9. Chief Administrative Officer Adam Davey and Corporate Services Clerk Carleena Shepherd were the staff present.
Valemount Elementary School PAC Winter Festival on February 11, 2018
Council agreed to waive the rental fees for use of the Community Hall and the Village tent, allow the proposed activities to take place on Village property (subject to insurance requirements) and have Public Works assist in event preparation and setup.
Reading File: Prevention of Quagga and Zebra Mussels
Council received correspondence shared by other communities sent to the province requesting more funding to prevent mussels. Councillor Torgerson said that the check stops outside town and the marina have helped and if the situation changes, the village might need to send a letter.
Draft Development Permit for Gas Station and Convenience Store on 17th Ave.
Council authorized staff to prepare a draft Development Permit for a commercial retail space (to include a convenience store) and gas station at 1400 17th Avenue. This development permit proposes a variance to increase the permitted maximum floor area of a retail store from 200 square meters to approximately 660 square meters. The final approval will take place at the January 23 council meeting and adjacent property owners were to be notified of the same.
Enforcement and Adjudication Amendment Bylaw 777, 2017
Council adopted bylaw to change the time frame that exists between 3rd, 4th and 5th Animal Running at Large infractions from 15 days to 60 days from 2nd infraction. With the current bylaw, if there is no repeat offense within 15 days, the infraction is reset back to first offence and thereby not subject to imposing fines. The fine from first to fifth offense for animal running at large increases progressively from $100 to $500, and is in addition to licensing requirement fines.
Council Reports
Councillor Blanchette attended the Canoe Valley Recreation Centre's Community Consultation committee. The committee is seeking input for next year's budget for any change to services at the arena. Input can be provided to Regional District Director Dannielle Alan or Pete Pearson.
Councillor Salt attended the TransCanada Yellowhead Highway meeting by teleconference.
Councillor Torgerson attended meetings for the Valemount Community Forest and Tourism Valemount.
Mayor attended the regional district meeting in December.
She also said she had received a lot of calls with concerns about property taxes after increase in property assessments. She clarified that property taxes are determined by the mill rate, which in turn is dependent on the budget. The mayor said that her own property taxes in 2017 were less than that in 2010.
Resolution to North Central Local Government Association regarding taxes for Highway Rescue
The Mayor wanted to see a resolution that local taxes not go towards highway rescue but rather it is supported by the province. Although past resolutions had been made for the same, nothing materialized, it was worth trying again with a new government, felt the mayor, as the regional district would also support the Village. Regional District director for Area H Dannielle Alan, who was attending, confirmed that the costs for highway rescue are growing, and the traffic on the highway is also increasing. Council voted to send a resolution to be received for the May Convention of NCLGA.
Public Comments
Paramedic Eugene Jamin said that many local citizens are caught on the highway and we need to share some costs.
In-Camera Items
Council closed the public portion of the council meeting to discuss three in-camera items related to proposed provision of a municipal service, information related to negotiations between the municipality and another level of government and a late item added at the meeting.