by Andru McCracken
---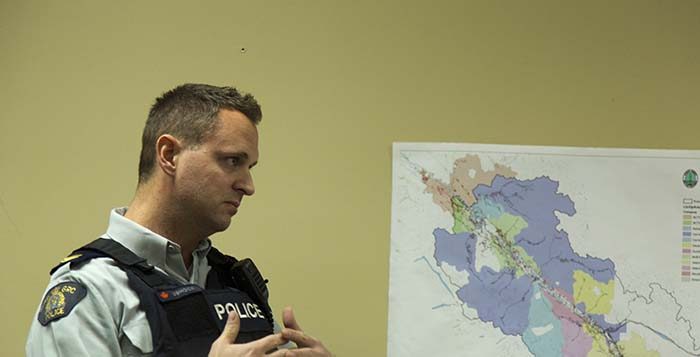 Council met for their regular meeting Tuesday, Nov 28. All of council was present.
Things started out with a four minute public hearing on Bylaw 774, an amendment to the zoning bylaw to allow the Library Annex, a small house, to be zoned as residential. Council received no submissions in advance of the meeting, and one person spoke in favour.
The agenda for the regular meeting was adopted with the addition of an item added by Councillor Rick Thompson.
Council approved minutes of previous meetings held on Nov 14, Nov 17 and Nov 20.
Corporal Kyle Ushock gave his first quarterly report. Mayor Loranne Martin thanked him for a great report and said she looked forward to further updates.
Thompson asked a number of questions.
A grant worth $20,000
One question was about the status of a Canada 150 Grant. Economic Development Officer Karen Dube, and former grant writer, gave an update on a BC Canada 150 Grant that had been approved for $20,000 that needs to be completed by March 31.
Dube said there have been some delays and the latest thinking is that they could replace 10 to 13 windows in the train station and replace the station sign.
Meaningful Financial Reporting
Councillor Harold Edwards asked if the financials could be presented in such a way that council could see the year to date numbers for the prior year, alongside the present year.
Chief Financial Officer Frost said she didn't have a definitive answer.
"I will look into it," she said.
Economic Development Report
Dube, the new economic development officer, released her first report. (See next week's story on her work to date).
Thompson asked about the economic development action plan. Dube said that there are funds to update the economic action plan, the project has been well advertised and that the budget is between $25,000 to $30,000 with expenses negotiable.
"There has been interest from Ontario right to McBride," she said.
She said the contract would be awarded at a special meeting on Thursday Dec 7.
Forest Support
McBride Community Forest Manager Gene Runtz made a short presentation to gain council's support for a funding application to the Rural Dividend Fund for $84,000.
He said that the idea is to get a better idea of what is in the local forest.
"This is probably one of the very most important issues that needs to be done," he said. "We need a letter of support for this application."
Canadian Mountain Holidays Lodge
Council reviewed a letter from Dave Butler of Canadian Mountain Holidays looking for support for a new lodge near McBride. Edwards recused himself, and in an email he explained that he has an interest in the hydro project at Castle Creek and that there could be a small benefit to him if CMH located their lodge in the area. Council moved to write a letter of support.
Bylaws
Council gave 3rd reading to Bylaw 774, changing the zoning of the Library annex building to residential.
NCLGA conference
Council discussed attending NCLGA. Edwards said that the conference cost too much and that they didn't all need to attend. Ultimately council voted in favour of securing rooms for all of Council for the NCLGA conference. Martin dissented and had her voted recorded.
Asset Management
Grant writer Sharon Mortensen asked council to apply for an asset management grant worth $7500 and to allot $7500 of taxpayer money towards it.
Only Thompson voted against it. "I understand the importance of the asset management, but I want more information about how it all fits together," he said.
Great Destination
Councillor Thompson asked council for permission to attend a Destination Development Workshop in Valemount. "They are introducing a new program through Destination BC," said Thompson. All voted in favour.
At 8:55 pm council went in camera and was closed to the public.