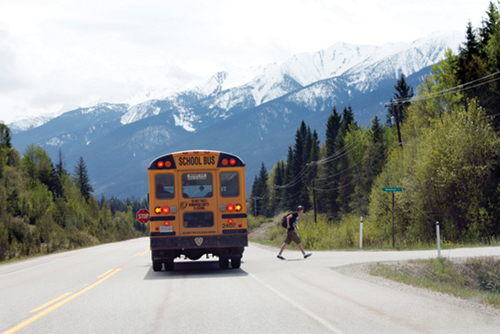 by Andru McCracken
---
Even by the time he got to the Gathering Tree, bus driver Ken Nicholas was angry; in fact he was still angry in the afternoon when he retold his story.
Nicholas drives a school bus and often has to deal with drivers passing him unsafely, but Friday morning was different.
He was heading south through Valemount on Highway 5 and was about to pass the Best Western where a truck with sleds on the back was waiting to turn onto the highway from the hotel parking lot.
He pointed to a point across the street about 20m away and said that was how close the truck was when it turned into the lane ahead of him.
It was going the same direction and Nicholas was doing the speed limit, 70km/h. Nicholas said he had to slam on the brakes to prevent the bus from ramming into the truck.
The truck was travelling under the speed limit. Nicholas went to pass, and that's when the games began. As the bus sped up, so did the truck. As Nicholas slowed down, so did the truck.
Until a car appeared in the oncoming lane, the truck continued to prevent the bus from getting back into the right-hand lane. And when the truck relented, Nicholas said there was just enough time to get back in. There were no students on the bus at the time.
Nicholas said he wished he'd taken the plate number of the offending truck.
Nicholas says he often deals with unsafe passing by impatient drivers on the highway who don't want to risk getting caught behind a school bus and having to slow down.