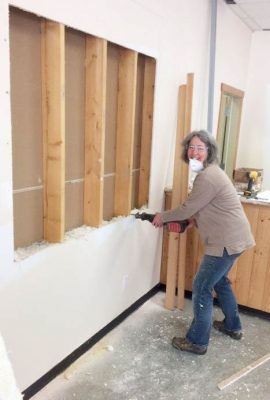 by Andru McCracken
The Regional District of Fraser-Fort George, the McBride and District Library Association and the Valley Museum and Archives provided an update on the new Library Museum building on Tuesday morning.
"Construction and renovations have been occurring at 521 Main Street to ensure it is ready and safe for occupancy by the McBride and District Library and the Valley Museum and Archives.
As part of that work, it was determined that the occupancy status of the building required a change from its previous classification of "business" to "public assembly." This status change is required by both the BC Building Code and the Architects Act based on the information submitted with the building permit application, and requires sign off by a qualified engineer and architect, the statement says.
As renovation work was progressing, the original engineer who had assisted with the project deemed he did not have the authority to sign off on both the architectural and engineering aspects of the work, and as a result another engineer had to be brought in, according to the update.
Work on the building ceased at this time so arrangements could be made to bring in a third party architectural engineer to assess the work completed to date and determine what was outstanding in order to get sign off.
That assessment and related follow up is currently underway. Engineering work and continued renovations are expected to start this week.
"While we don't have an estimate for a move in date yet, everyone is working to ensure the building is compliant, safe and ready as soon as possible."