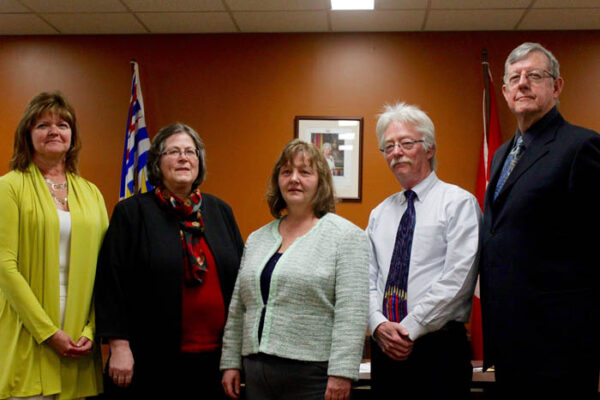 By Andru McCracken
All of council was present at the regular Council meeting October 24, with Rick Thompson teleconferencing in from the Vancouver International Airport after some technical challenges.
Before adopting the minutes Loranne Martin asked to move an item that had made it onto the public agenda into in camera.
Councillor Harold Edwards had asked council for all legal correspondence from May 2017 to July 2017. When offered a chance to comment on it, Edwards said that he had intended that the request go onto the in camera agenda. There was no indication why Edwards was asking for the legal correspondence and the agenda item was moved in camera unanimously.
Dr Paul Winwood made a presentation about the Northern Medical Program.
"You have a right to hear what we're up to and what we're doing in the program," said Winwood. "You guys are supporting us through the Northern Medical Trust."
His presentation began with a photo of Dr. Riley Hicks, a McBride local who graduated the program.
"Northern Medical program came out of community action critical shortage of physicians in the north," said Winwood.
He said that while 30% of the population lives in rural areas, all but 10% of doctors live in the city.
He said that the program is having success keeping doctors in the north.
He also mentioned a new program that aims to give underprivileged students attending university extra help to enter the program.
He said that it would provide help for students to study for the Medical College Admission Test (MCAT) exam, which is required to enter the program.
Council discussed a code of conduct, which was brought to the agenda by Edwards and Councillor Rosemary Hruby.
"I was trying to keep it top of mind," said Hruby.
Martin said that a committee of UBCM is looking at a code of conduct and an integrity committee.
"I don't mind making sure it goes on a list, when it comes forward from UBCM it will be sent out to the entire province," said Martin.
Edwards said he would support it.
"If that is going to meet the needs," he said.
Lucille Green worried that there wasn't a time frame given by UBCM and was in favour of adopting a code of conduct in the interim.
"We need to have this," she said.
Chief Administrative Officer Cheryl Martins asked if council would like to consider the one that came forward in March or April 2017.
Hruby said that that one was problematic.
"I would hate to see us draft another one if there is another one coming," said Hruby.
Mayor Martin agreed, "I don't know if it is worth it. I just think that it is a lot of extra work for staff when one is already on the table."
Council agreed to postpone the decision until they get more information from UBCM.
Another agenda item brought up by Hruby and Edwards was a process to amend the current bylaws.
Mayor Martin mentioned a previous recommendation by their municipal advisor.
"Staff may be able to take on specific bylaws but, with the amount of work existing policies, best practices, compliance, she recommended a consultant to do a thorough review," said Martin.
Hruby said she just didn't want the issue to fall off the table.
Chief Financial Officer Claudia Frost said there was no way staff would have the time.
"It is something we should look at in the budget," said Frost.
Green said she didn't think there was a need to go through all the bylaws and policies at once.
"As issues come forward we need to look at those issues," said Green. "When we come to our budgeting time [we should consider] hiring a consultant for a portion of it. As council we should prioritize the items."
CAO Martens said she wasn't sure that council should determine the priorities.
"I don't know if council is aware of the priorities," she said. "We have kind of already started the process."
Edwards said he was asking for a process to amend bylaws.
"My objective is to get a process in place so that there are individual worry points that are being dealt with," said Edwards.
Mayor Martin said that if council thinks of one that needs to be dealt with for particular reasons they should bring it forward to CAO Martens to see if it's something that needs to be dealt with right now.
CFO Frost said that sometimes there is a ripple effect when changing bylaws. "That is what takes the time and process," she said.
Thompson moved that administration bring forward a report on the cost to amend bylaws in 2018.
Green seconded the motion. All voted in favour.
Edwards asked for the floor and repeated his request.
"I am still looking for the process that we use if something that comes up that we want dealt with now," said Edwards.
Just submit your concerns in writing, said Mayor Martin.
Strategic Planning
"We did strategic planning quite some time ago, when will we see something that looks like a report," asked Hruby.
CAO Martens answered.
"We did receive a bit of a template, going over some of the things that council had discussed, but that is all that it is. As part of the strategic planning we were hoping to start the asset management plan. The quote came in quite high. We are pursuing a grant," said Martens.
"Council will be seeing something fairly soon, I hope."
Martens said she will provide the strategic plan template to council in camera.
Thompson reiterated Hruby's concerns.
"We have not yet as council seen the final report for the strategic planning session." he said. "I feel we need to see that report from the facilitator."
Mayor Martin concurred, "We look forward to that coming soon."
Reports
Most of the conversation about the reports was about the budget.
Thompson asked staff how they were doing overall.
"All in all we are doing okay," said CFO Frost. "Public works and everybody in the office, nobody is going out and just spending the money."
Thompson brought Frost's attention to what appeared to be a big deficit in her financial report.
"That is actually a surplus not a deficit," said Frost, explaining how not needing to hire an interim chief financial officer, some outstanding grants and a few other items are behind the large surplus.
Thompson said it was the best news he'd heard all night.
Hruby brought up the issue of GST that needs to be paid by the Robson Valley Mountain Biking Association because of the way it is being handled by the village.
Frost said she was inquiring in tothe issue.
"I have already sent off a note inquiring. If we are just administrators of it, we can't claim it," she said.
"The bike club people have to come up with $5000 for GST if we can't figure out a way," said Hruby.
"My job is to protect the village," responded Frost.
Frost said that it was time to schedule budget meetings for the coming year.
Mayor Martin commented: "Just so you know we had some budgeting anomalies in 2016."
Public Works was on hand to answer questions about their report.
Karen Dube, the newly appointed economic development officer was on hand to answer questions and report on her efforts during small business month.
"I'm pleased to see staff there to answer questions of council. I thank them for their time there this evening," said Thompson.
Edwards asked for the grant writer's help on behalf of the community forest.
Edwards made a motion to support a grant initiative from the Robson Valley Arts Council.
Bylaws permits and policies
After much deliberation council gave first and second reading to Bylaw 755 Board of Variance, giving staff the time to make changes to the bylaw suggested by Councillor Green for third reading.
The bylaw establishes a board of variance to which appeals can be brought.
CAO Martens confirmed that council would be appointing a new board of variance.
Council moved to support an application to the 2018 Community Emergency Preparedness fund for $25,000.
Council also unanimously approved an application to the Federation of Canadian Municipalities for $50,000 to create an Asset Management Plan.
At 8:30 p.m. council closed the meeting to the public to go in camera citing labour relations and receipt of advice that is subject to solicitor-client privilege.