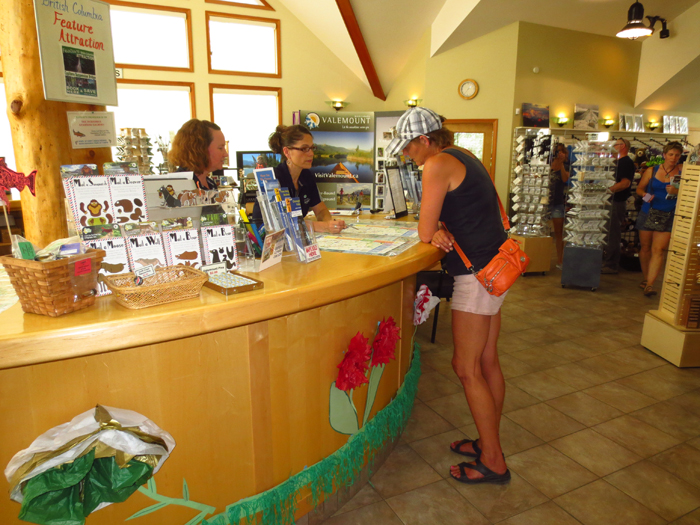 by Andru McCracken
Sherral Shaw at the Gathering Tree is not the only one sensing more traffic in town. Numbers from Mount Robson and Valemount Visitor Centres are up.
Wendy Dyson from the Valemount Visitor Centre said that they saw a huge surge in traffic due to travellers that were planning on visiting the B.C. Interior, but came to Valemount instead because of the wildfires. Also free passes to the national parks meant there was more overflow from Jasper than usual.
"In recent years the trend we have been seeing there is a slow steady increase in tourism," she said.
But what is most remarkable to Dyson is not the increase in visitors, but length of stay.
"Valemount is more of a destination. People are coming here and staying for 2 or 3 days maybe a week," she said.
Staff at the Valemount Visitor Centre try to gather how long people intend to stay when serving them, said Dyson.
She said that tourism infrastructure, like hiking and biking trails, raft operators, and even the River Safari in Blue River make a big difference to how long visitors stay.
McBride Visitor Centre manager Dannielle Alan said numbers are down in McBride, but she isn't entirely confident in the statistics, partly because student workers who keep the stats have been run off their feet.
"We definitely had enough work to keep all four of our staff very busy. Nobody was sitting around. There were visitors constantly through here."
Alan thinks the parks promotion around Canada's 150th anniversary may have counteracted the decline other visitor centres saw because of the fires.
A hopeful sign, said Alan, is that people are increasing their multi-night stays.
She said the four local hoteliers were surprised to see people staying three to four nights.
"Usually people just stay on their way to somewhere else," she said.
"The ancient cedar forest, the Dore river valley, new mountain biking trails on Mount Teare have really had a huge impact on, not just people passing through, but people staying."
"There is always money for marketing, she said.
But she'd like to see more tourism infrastructure.
She said she is envious of the businesses that have popped up in Valemount offering guided mountain tours, and rides in the mountain bike area.
"Although we are not as much of a tourism community as Valemount and we haven't leveraged our opportunities as efficiently, our tourism numbers have steadily increased," she said.