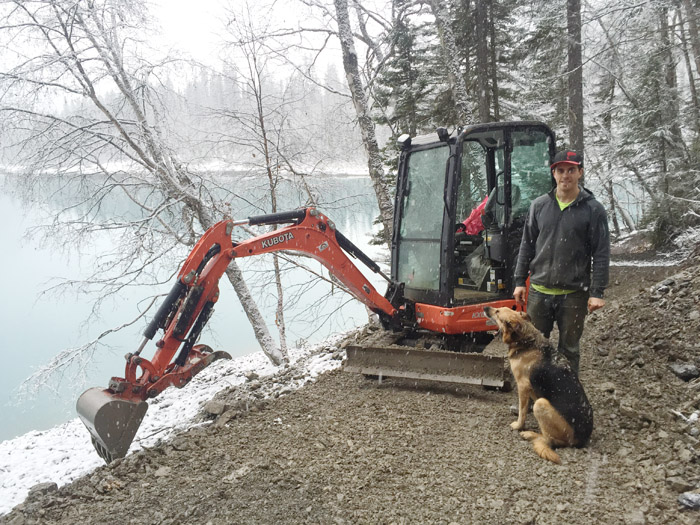 by Andru McCracken
The local trail builder and visionary who started Valemount's mountain biking trail system is bringing his craft to new communities. Andreas Thoni has just finished some trail work in Bella Coola.
"It's cool," he said of the community. "It is definitely remote and different. It has cliff walls on either side of the valley; it's very different from Valemount."
Bella Coola, the townsite, has a population of 148 and the Bella Coola valley has about 2000 residents total.
The terrain is different too.
"This is coastal rainforest," said Thoni. "There is everything from sand to straight boulders."
He's building the main connecting trail to the bike park area, and he is supervising a local crew that is hand finishing the trails.
Thomas Schoen, of First Journey Trails who developed the master plan for the trail system in Bella Coola said he is happy to have Thoni on his team.
"He is building an amazing, amazing trail down there," said Schoen. "This year it's really about getting the community engaged to get them stoked on the project."
He said that the project is relatively big but it will take years to develop the whole system.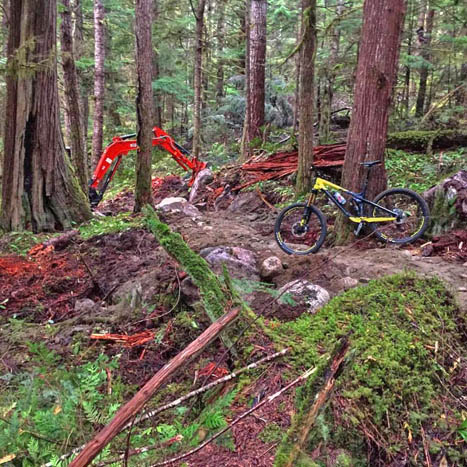 Kerry Phillips a local mountain bike enthusiast who happens to be a Resource Technician with the Ministry Forests said the community has been working on developing the sport for years.
There is a strong desire to build mountain biking, but she said they are starting from scratch and Andreas' connecting trail is their first machine built trail. Wisely it is aimed at beginners.
"It is the type of trail anyone can ride, it has some cool little features that, if you know what you are looking for, you can have quite a bit of fun," said Phillips.
"It's not fully finished yet, but when I take people hiking on it they say, 'Oh cool! I need to get a mountain bike.'."
For Phillips the mountain bike trail network is about community development and getting kids and the community into nature.
"The long term goal is the potential for tourism small business and jobs that could be spin offs from it."
She said her coworkers knew of Andreas and his company Robson Energy Services and decided to bring him in.
She was initially nervous about how the community would feel about somebody from the outside building the trail.
"A few people here have machines, but what you need is somebody who knows about mountain biking and can operate a machine," she said.
She said that his light impact on the surrounding environment has deeply appreciated.
"You hardly know a machine built trail, does such a good job with the naturalization," she said. "Because of it we'll be doing some more."