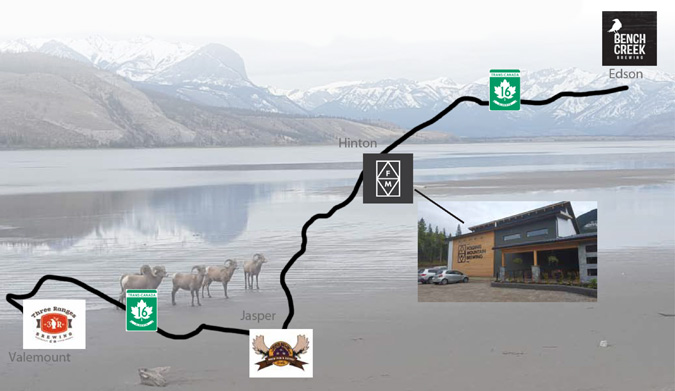 by LAURA KEIL
There's a new brewery on the block, creating a Yellowhead Highway craft beer destination corridor.
Folding Mountain Brewing Company opened in July, perched on the eastern side of Jasper National Park, a few kilometres from the gates.
It joins Bench Creek Brewing in Edson, Jasper Brewing Co in Jasper, and Three Ranges Brewing in Valemount as the fourth craft brewery in the region.
The brewery building is a testament to its owners' confidence in their trade – a beautiful, big building with modern decor, containing shiny brewing vats in the brew area, a 68-person indoor seating area and 58-person patio.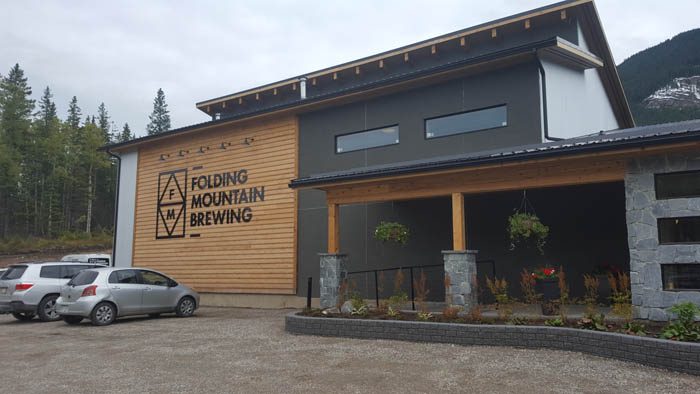 Craft beer is becoming big business in Alberta, following in the steps of B.C.'s industry. The number of craft breweries in that province tripled in three years up to 54 earlier this year with more planned. The boom followed the Alberta Gaming and Liquor Commission eliminating a production minimum for breweries in 2013.
This has allowed people like Aric Johnson and Jason Griffiths, owners of Folding Mountain Brewing, to get into the business.
The pair of Hinton natives tossed around the idea of opening their own brewery for a while (over a cold craft brew) before taking the plunge.
But as Johnson describes it, they've hit the ground running.
"Early spring last year, we got more serious, then it went full steam ahead," Johnson told the Goat.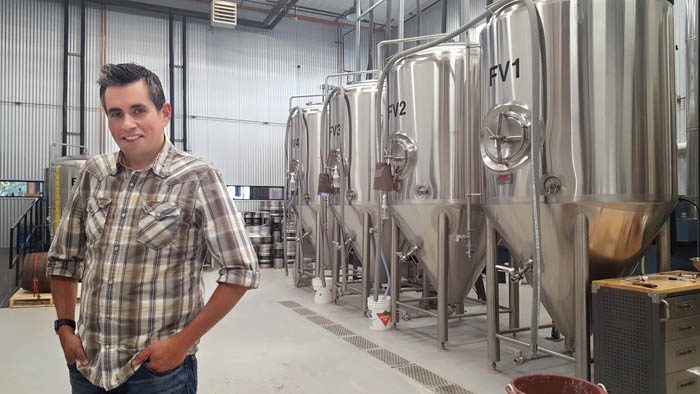 Johnson runs the brewery while Griffiths is involved as well, but also works at the family business – Griffiths Ford Dealership in Hinton.
The pair are trying to cater to both locals and tourists and create a friendly, open atmosphere, facilitated with "community seating" (long tables). Johnson hopes people will strike up conversations with strangers while having a good time and enjoying the beer. Families with children are welcome too.
Outside the building is what Johnson terms a "state-of-the-art" septic system with 12 tanks to process the brewery waste. Johnson says the environmental side is important to them, especially since they are on the edge of the park. Behind the brewery is Folding Mountain itself – a popular site for hiking and outdoor pursuits.
Johnson says they will keep five core beers on tap, with seasonals added throughout the year. Their five core beers are the Honey Wheat, Pale Ale, IPA, Red & Porter. For seasonals right now, they have Wild Mountain Hefe, Loral Lemon Sour, and Westfalen Altbier. Their brewmaster, Dave Mozel, was formerly the instructor at the Olds College brewing program.
The brewery also offers a full kitchen with comfort foods like grilled cheese, burgers, and tacos, as well as salads and starters.
Johnson sees the craft beer industry as generally supportive of one another, rather than competitors.
"I think it's different in some industries – we all want to boost each other up," he says, adding that it's great to pick the brains of people who've been in it longer.
In the spirit of partnership, the brewery plans to have other brewery beer on tap to provide customers with exposure to other breweries.
As for their own distribution, their website lists a dozen places you can drink Folding Mountain across Alberta.
Next month they will release a full line of canned beer in addition to growler fills and tall boys.
Folding Mountain is currently open every day except Monday. See their website or facebook page for current hours.