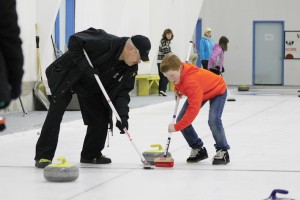 by LAURA KEIL
Though they were unsuccessful in their bid to become a tax-funded service, the Valemount Curling Club is "not going down without a fight" according to one member.
The club met last week to discuss the future after residents voted no to a tax increase that would have funded the curling club's arena. Without a yes vote, the club is left with a costly building and no functioning ice plant.
But that hasn't foiled the curlers who are not short of gumption.
"We're going to try to make natural ice this winter – god knows it's cold enough in there!" said club member Korie Marshall.
She says the natural ice will of course be weather dependent.
The group is also planning its annual Halloween Dance Saturday October 28th from 9 pm to 1 am. It's $10 admission, ages 19 & up.
"We'll try to raise enough to pay for the insurance and some propane, and try to get caught up on taxes."
She says this way the Food Bank won't have to move yet, and maybe some other groups like the Girl Guides can use rink when they're not curling.
"We'll see if by some miracle something else comes up, and maybe we can hold on to the grants we got this year, until we can figure something else out."