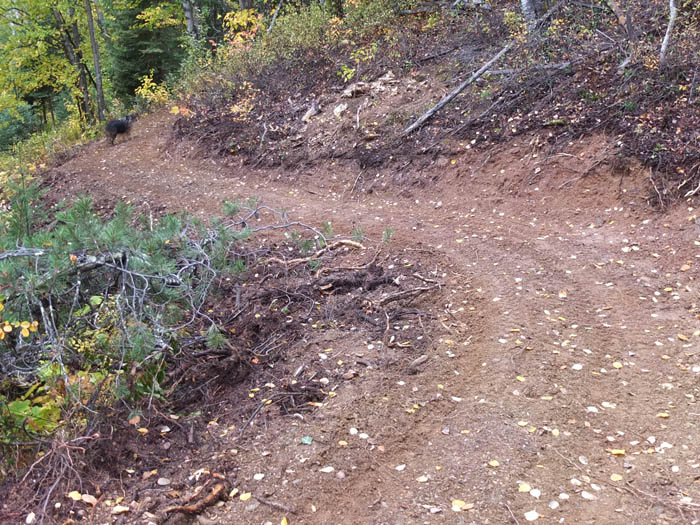 by Andru McCracken
Ingrid Stengler and her small team of volunteers are doing wonders attracting funding for the McBride Mountain Trails Network. With $10,000 awarded by the BC Liberals last spring and $30,000 from the Northern Development Initiative Trust (NDIT), Stengler manager to round up another $100,000 from the Rural Dividend Fund.
"It's pretty much doubling our trails," said Stengler when contacted this week.
With the NDIT funding, they are building a three kilometer uptrack.
"You can leave from our parking lot, it goes up to 3 km, now you can go up to 6 km and link into the downhill system," Stengler said.
The network is designed for people who love pedaling and riding gnarly downhills.
Ingrid happens to be one of those people.
"It's like a roller coaster: there are lots of big ups and downs so it's like a cross country ride," she said.
Stengler said that these linking trails allow riders to gain vertical and have fun, and they work great for beginners in reverse.
"Everybody loves Bacon," said Stengler, of one of Valemount Bike Park's most popular trails. "Because it is easy and it doesn't kill people."
The bulk of the grant money will go towards a flow trail, the same type of machine-built trail that has gained the Valemount Bike Park renown throughout the province. Stengler notes machine-built trails are expensive.
If you haven't felt the rush of mountain bike tourism on the streets of McBride yet, it's no wonder. Stengler and her crew have yet to officially open the trail network to the mountain bike community. With the help of Valemount-based Dylan Cuming and a local trail crew, the nascent trail network has added kilometres to existing trails on Teare Mountain.
Stengler said that even though the trail network has expanded rapidly, maintenance isn't a huge issue. Unlike other jurisdictions, McBride's trails are solid because of the rocky terrain.