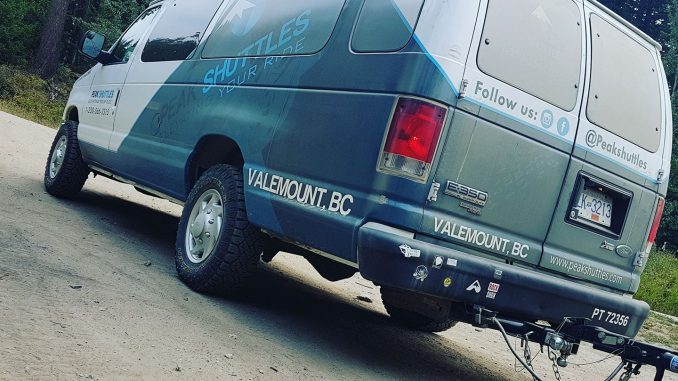 by Andru McCracken
Bikers banded together to shuttle each other up after the Peak Shuttles' Vanborghini blew a transmission on Sunday. The Vanborghini, a passenger van with a bike rack trailer has been plying the bike park over the summer, dropping cyclists at various trailheads on the way up.
The new Valemount business is run by Aaron Ermantrout who was sorely disappointed the malfunction happened on the long weekend. He said the repairs are likely covered under warranty.
"Starting any business has its share of ups and downs and can be quite the learning curve, however I can't complain as it is our first year," said Ermantrout. "The Vanborghini will return and continue rippin' laps at the bike park again."
Ermantrout estimates 70 per cent of weekend riders use the shuttle.
Randy Pruden, also known as the trail gnome, does trail maintenance at the Valemount Bike Park and he showed up after the shuttle was out of service. He and friends shuttled folks who wanted a lift.
He said there were lots of other shuttle vehicles available and cycling continued despite the setback.
"A lot of people here are prepared to pedal, but the shuttle is here, so they use it when it is in operation," said Pruden.
He said Peak Shuttles has built their own niche market.
"There are groups from Jasper that come out pretty much every monday with the express intent of shuttling," he said.
While Pruden bought a truck specifically for shuttling, he still uses the service for convenience.
"If you want to go riding with a buddy it makes it super convenient," he said.