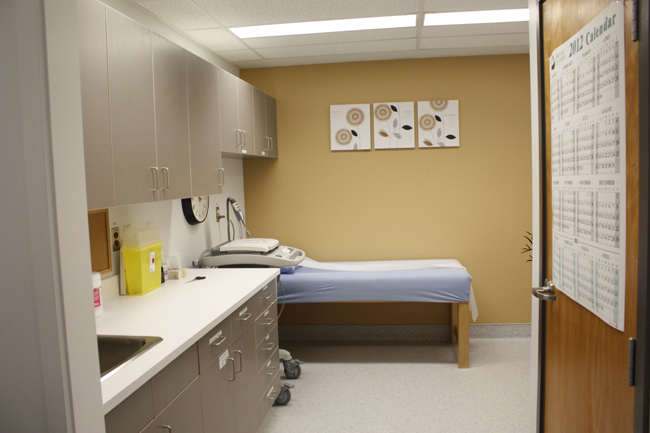 by Andru McCracken
In June, Northern Health announced an app for pregnant women, but another change around the same time didn't get a press release.
"We are discontinuing prenatal classes in the Robson Valley," Eryn Collins, communications officer for Northern Health, confirmed to the Goat this week.
Collins said Valemount and McBride were some of the last rural locations where prenatal classes were being offered. She said that only four to eight couples participated in prenatal classes over the past year leading to scheduling challenges.
Further, the cuts reflect a new "integrated" approach.
"Families can ask any prenatal questions of their primary care provider and team of providers through the course of their pregnancy," said Collins.
Collins said prenatal classes are still on offer to couples in Prince George.
In June Northern Health rolled out a new program called SmartMom Canada, an automated text based service that provides general information throughout a woman's pregnancy.
Northern Health commissioned the app to provide prenatal education to women not able to attend in-person classes. While the app features evidence-based information, whether or not the app is an effective replacement to prenatal education is currently being studied by the UBC School of Population and Public Health.
Patricia Janssen, professor and co-lead of Maternal Child Health at the UBC School of Population and Public Health helped create the tool.
In an email exchange, Janssen said that messages are meant to complement prenatal advice and information provided by caregivers, not to replace them.
Regarding what's termed "integrated prenatal care," Janssen said this is a new concept that hasn't been studied or compared to prenatal classes.
Valemount resident Karen McKirdy says she'd like to see more prenatal classes not fewer.
She and her partner took prenatal classes early in the second trimester of her pregnancy.
"I would have benefited a lot more had I had the option to take the prenatal classes in my third trimester."
She said she would have had more questions, and would have more easily remembered breathing techniques during the birth.
As for the app, McKirdy appreciates that people learn in different ways, but says it is important to have in-person access to someone deeply familiar with birth.
"So many [new moms] are scared and need to see the easy relaxed energy of someone who sees it a lot. We may only go through it once as mothers, but it happens everyday and is very normal," she said.
Nancy Taylor, a retired Certified Childbirth Educator, says she is disappointed with the cuts.
She would have liked the health authority to consult with families before cutting them.
"Families still need prenatal classes," said Nancy Taylor, "While the SmartMom app may meet the needs of some mothers, a well-funded series of paced prenatal classes, delivered by qualified educators and supported by Public Health, is far superior."
"As a preventative health care measure, prenatal classes can save precious health care dollars in the long run."
This summer, Lonnie Gustafson began a Birth Group for expecting and new moms as a volunteer effort out of her home in McBride. She says existing classes typically haven't offered empowerment to women, as shown in the number of medical interventions and cesareans.
"Women need more than just the textbook stuff because it is not changing their birth experience. Nobody is talking about the fears and why they are around birth and why they don't have to exist," said Gustafson. "There are of course going to be the rare times where medical intervention is going to be necessary. I don't think people know how rare it is."
Gustafson said doctors and nurses aren't trained in natural birth and aren't looking at women as a whole.
She isn't impressed with the app either.
"It looks like an opportunity to start something different or new. It's time to change things," she said. "I don't think an app is what women need."