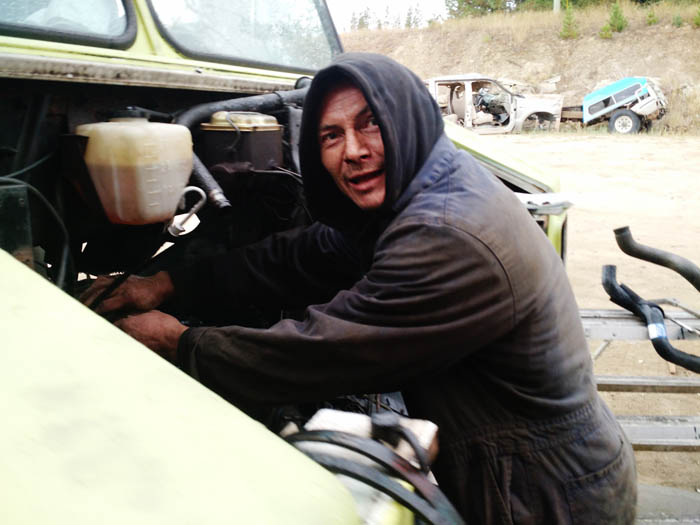 by Andru McCracken
As the road gets busier, it just gets worse. That's what mechanics are saying about the human waste problem at the pull out just north of Valemount. They know, because they are called there to fix vehicles and have to get closer to the pavement than most.
"Every single tucker that stops there will go between the bobtail and the load to take a leak," said Kale Bricker, a mechanic at nearby Travis Auto who regularly takes vehicles out for road tests and turns around in the pull out.
Travis Wied has been fixing vehicles at Travis Auto since 1994 and said the problem is only getting worse.
"If the trucks are going to stop there, they need to put in a facility to use because it is gross," said Travis. "We use that pull over as a work spot because vehicles break down."
"It's just disgusting."
He says most other pull-outs on the way to Alberta have a bathroom, and anywhere there is a pullout in the U.S., there is a bathroom.
"You go to Bone Creek – in the middle of nowhere – and there are beautiful bathrooms," he adds.
Travis isn't sure who is responsible, but he's angry at the truckers who use it as a toilet, and incensed that it is allowed to continue.
"On a hot sunny day when it hasn't rained for weeks, take a look."
Two or three weeks ago he sent a mechanic there because a motorhome blew a levelling valve.
"We couldn't move the unit because it was puking air," said Wied.
As a result his mechanic had to lay on the ground.
"We're trying to advertise Beautiful British Columbia and there is a Valemount sign right there," he says. "They get out, and there is a pile of somebody's urine and number two."
Bob Griffin agrees there is a problem, but says it's not isolated to that location – he sees it all over, including close to his family's property near Whiskey Fill Road.
"The government has to put more toilets in these places. They pull off Whiskey Fill Road, there is toilet paper in there all the time."
Bricker thinks someone in government needs to step up.
But spokesperson for the Ministry of Transportation Danielle Pope said they have no plans to install an outhouse there.
"Rest Area/outhouse facilities are generally constructed at locations that are further from town centres to address needs along the highway. Commercial truck drivers have the opportunity to utilize facilities within communities as well as those constructed along the highway," she said.
Northern Heath's Eryn Collins said people should be careful about 'interacting directly' with human waste.
"In terms of health concerns, while human waste can contain infectious pathogens, the risk would be in interacting directly with it, or in consuming water contaminated by it. And in terms of water, our routine recommendation is that people NOT consume water from any untreated sources (such as a creek, or other surface water sources)," she said.