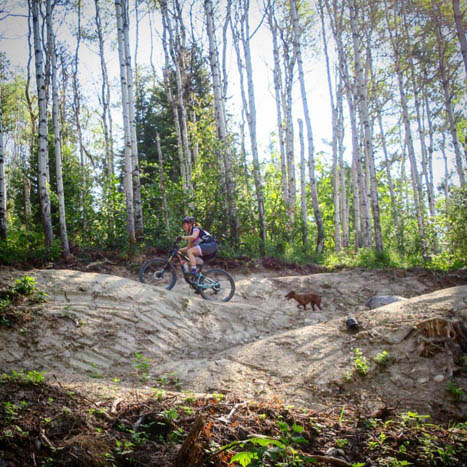 by LAURA KEIL
The Valemount bike park's latest trail is all uphill – and it's perfect.
The climbing trail, called CBT's Munday Grind, accommodates mountain bikers who want to ride up the mountain, rather than cycle up the road, drive or shuttle. Columbia Basin Trust (CBT) was a key funding partner and Phyllis B Munday was the first woman to summit Mt. Robson.
The 6.4km trail has a gradual grade between five and seven per cent and finishes at the TInfoil Hat staging area. There is also a midway exit which takes riders to the Bacon trailhead.
The trail is a big safety feature, says Valemount and Area Recreation Development Association Manager Curtis Pawliuk.
It's also a draw in and of itself.
"Not everybody likes to shuttle; some people like to earn their turns," he told the Goat in May.
Competitive mountain bike racer and local high school teacher Jean-Ann Berkenpas said the trail is a perfect combination of flow and efficiency.
"It's so fun and scenic that it's easy to forget you are riding up a mountain!" she said.
Due to lack of rain, the temporary entrance to "Munday Grind" is 150m up the Bacon exit (off the main staging area). Once the trailhead gets some rain and hardens, the entrance will be directly off the staging area.
"The trail is still soft in spots so please ride gentle in these sections and spread out over the entire trail surface so we can get the full tread worked in," Pawliuk warned riders.
He stresses this is a climbing trail only and not designed for downhill traffic.
VARDA is also constructing two downhill sections of trail this summer as part of Phase 3 of the mountain bike park: one is 1.5 KM black diamond hand-built trail set to open Sept. 1st. The other is a 1.5 KM machine-built, stunty-type trail called Moby Dick that opened a few weeks ago.
With the hot weather and lack of rain, Pawliuk says many trails will require repair at the end of the season.