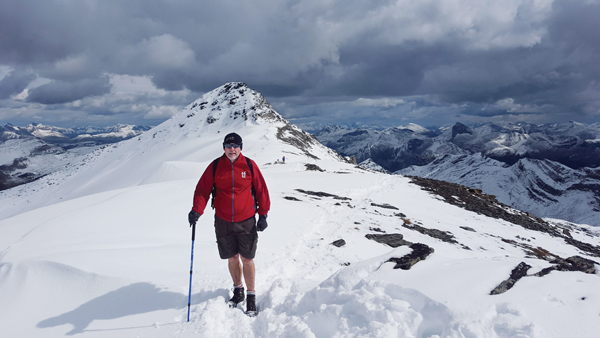 By LAURA KEIL
Participants in this year's Terry Fox Trek Aug 19th are hoping to avoid trundling through snow banks with an earlier start this year.
The past two years the hike was scheduled the second weekend of September, which meant hikers faced several feet of snow on the upper ridge and impeded getting to the Terry Fox monument, says Patricia Thoni, Yellowhead Outdoor Recreation Association President.
This year the sub-peak and summit/monument hikers are planning to leave the parking lot Aug 19th at 6am. The shorter hike to the look-out will begin at 9am. The hike to the summit and the monument takes an average of 12-13 hours return and involves an ascent of 5800ft over 9km.
On Friday hikers will gather at the Valemount Legion at 7:30pm for a social. Members of Terry Fox's family participating in the hike will be present and the night will include trivia games and draws. The Legion is serving pre-ordered dinners to participants and they will take a group photo at the legion on Friday.
A notice to participants encourages them to bring warm clothes and rain gear and says good hiking boots, gators and hiking poles are recommended.
Hikers are also required to bring lots of water since there is no water source except down a steep bank from the summit.
Hikers are encouraged to take photos and document their trek so the Terry Fox Foundation can share them on social media. Please use #terryfoxtrek or email your photos to [email protected]
There will also be a post hike gathering at the Valemount Royal Canadian Legion, Branch 266, located at 970 Main Street at 7:30pm Aug 19th.