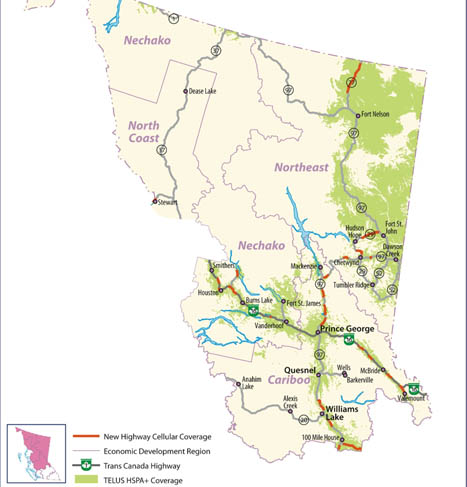 by EVAN MATTHEWS
It's been a longstanding rumor that if a person is in need, cell phones will make emergency calls regardless of having a SIM card, not being activated, or even not having service.
So can you, or can't you make a 911 call in a dead zone?
"You can't make phone calls — even emergency calls — in areas with no reception," says Liz Sauve, a Telus communications spokesperson.
"One thing to clarify though, is if there is cell service from any provider in an area, anyone can make a phone call to 911 — you don't have to be a customer of the specific provider," she says.
Therefore, if you're a Bell or Rogers customer but only have access to Telus towers, a person can still make an emergency call.
However, most cell phones will make emergency calls without activation or an active SIM card installed, according to many tech blogs.
Telus says despite the wireless dead zones in the valley, the company has been making strides to improve connectivity here through the Connecting British Columbia Agreement with the Province.
"Telus invested more than $8-million to build 10 new wireless sites along Highway 16 between 2011 and 2015," says Sauve.
"These 10 sites provide coverage to 150 KM of the highway, and combined with our other infrastructure in the area, Telus provides cell coverage to 63 per cent of Highway 16 between Prince Rupert and Prince George."
But the stretch of highway mentioned by Telus doesn't include the Robson Valley, and many dead zones still exist along Highways 5 and 16. While a gap exists and hasn't been addressed, Sauve says Telus is always exploring ways to better its coverage in the future.
So in case of emergency, what alternatives exist?
In some countries, such as Australia or the United Kingdom, the government has installed "emergency phones" alongside specific highways locations where heightened danger exists, or in locations where emergency calls will most likely be made.
However, Media Contact for the Ministry of Transportation and Infrastructure Danielle Pope says the Province doesn't currently have any emergency phones due to limited infrastructure. To her knowledge, no such phones exist nation wide.
"In order for emergency phones to exist, Telus would have to put quite a bit of infrastructure into these areas, even to operate emergency or satellite phones," says Pope.
"However we're trying to connect with citizens… to see if they have any knowledge on the technology side. Sometimes they have their ears to the ground on that sort of thing," she says.
In the meantime, Pope is reminding Robson Valley residents that Wi-Fi has been added to rest stops across the Province, and calls can be made via Wi-Fi in case of emergency.
While Sauve says Telus is consistently working at improving coverage, some areas along the highway create challenges in terms of providing service, namely due to the geography and lack of power.
This means if a vehicle goes down an embankment in an area without cell service and the person is unable to leave their vehicle, they will be at the mercy of passersby to notice them.
Until technological advancements emerge, prepare to walk to your nearest rest stop in case of emergency, and make sure to have an emergency readiness kit in your vehicle.