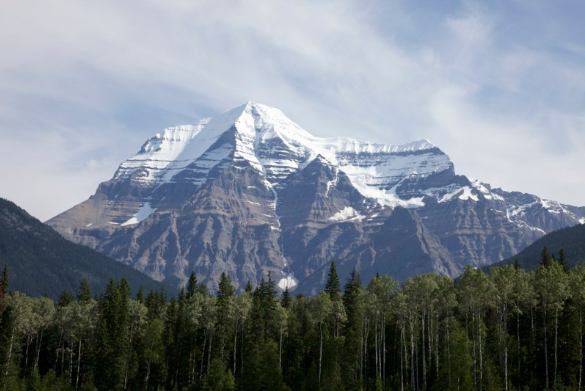 by LAURA KEIL
Robson Valley Search and Rescue (SAR) was busy at Mt. Robson last week, with two calls for help in two days.
Local SAR manager Dale Mason says one call was made after a man fell and broke his leg at 9300ft (the peak of Mt. Robson is just under 13,000ft). The man was climbing with two others. He was airlifted off the mountain using a Helicopter External Transport through Parks Canada. Mason says they suspend one member up to 150ft below the helicopter who lands and prepares the patient for transport to a safe site.
"We don't fly under the helicopter longer than is absolutely necessary," Mason says.
The second call was a false alarm – an accidental activation of a SPOT beacon.
"Some of the older ones were easy to set off," Mason says. "You put your pack in the wrong spot, something leans against it and hits the SOS button… the newer ones have a gate over it."
So far in 2017, the local SAR has attended to 16 calls. In 2016 there were 36 calls and in 2015 there were 26.
They recently bought a second response vehicle using the Province's equipment upgrade grant.. Their current vehicle is 20 years old. Mason says they will likely exchange their older vehicle for a newer model later on and keep two vehicles on hand.
The local SAR is always looking for new recruits, especially in Valemount, Mason says. There are currently 30 members plus some non-SAR members who assist with snowmobiler rescues. He hopes to put on another course in October or November.