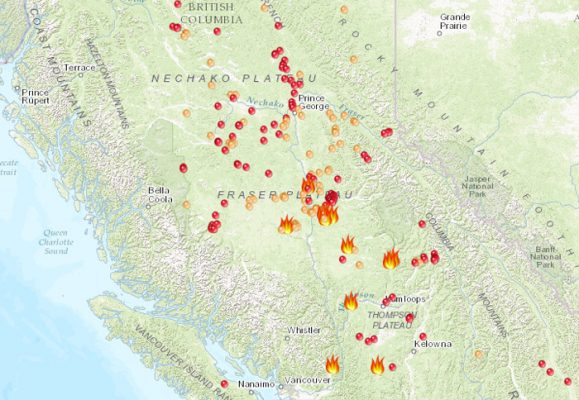 by LAURA KEIL
Dozens of out of control wildfires have led to a state of emergency in B.C. and evacuations as the Interior wrestles with infernos.
But the Robson Valley – including McBride and Valemount – have been largely wildfire free.
Three small fires (about 1,000 sq ft each) were reported by the BC Wildfire Service July 8th, fires caused by lightning, north of the Fraser River up the mountain near East Twin Creek.
The closest fire to Valemount is a small fire (0.67ha) about an hour south, south of Blue River, that cropped up July 8th as well.
Strong winds have brought in forest fire smoke from the Interior blazes to the Robson Valley (See air quality conditions here). The fires near Cache Creek and 100 Mile House are estimated to be each 1800 Ha, while several fires near Williams Lake have gobbled up several more thousand hectares of forest.
The single biggest fire burning currently is the Ashcroft reserve fire at 4,400Ha (as of July 9th). Homes and buildings have been destroyed and thousands of people evacuated. 80 firefighters, 7 helicopters, heavy equipment and support personnel are on site today.
Many parts of Hwy 97 and Hwy 1 are closed. See Drive BC for up-to-date road conditions.