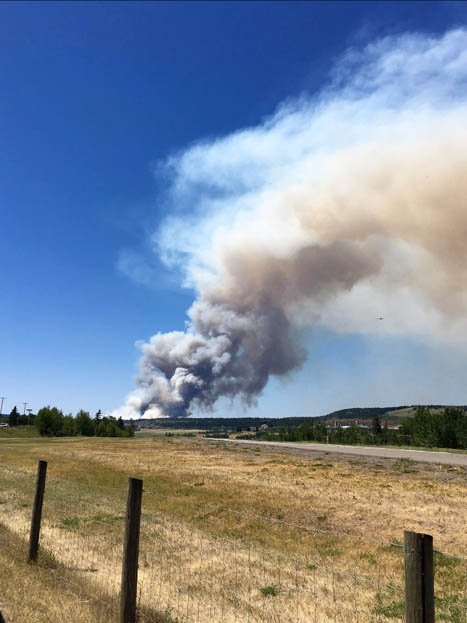 by EVAN MATTHEWS
While a large portion of the B.C. Interior burns, the Robson Valley has been fortunate enough to remain relatively unscathed. As a result, residents have shifted their focus to helping evacuees.
Last Friday, the Province of B.C. declared a state of emergency due to 226 fires, several of which quickly got out of control. As of Tuesday, more than 14,000 people are under evacuation orders as firefighters battle wildfires covering 320km2 of B.C.
The most recent evacuation was 100 Mile House on Sunday, Jul. 9. The community is made up of roughly 2,000 people.
On Monday afternoon, Williams Lake, population 10,000, was placed on evacuation alert, meaning residents should be prepared to leave at short notice.
100 Mile House residents were instructed to evacuate, heading south roughly 10 KM before heading east on Highway 24; through Lone Butte all the way to Little Fort. Once residents hit Highway 5 at Little Fort, they were instructed to head north along Highways 5 and 16 to Prince George.
The route brought most 100 Mile residents directly through the Robson Valley.
As a result, Valemount and McBride residents have rallied to help evacuees.
Diane Smith and Mabel Moore have set up a "comfort centre" at the McBride Community Hall. The centre is not an official refugee site, as there is no direct local government involvement. The comfort centre is offering a place to rest, with food and beverage, as well as information on official refugee sites are and how to register.
On Tuesday, 19 evacuees visited the McBride comfort centre by 2 PM.
In Valemount, resident John Grogan set up a Facebook group called Valemount Temporary Emergency Accommodations, in which local residents with rooms or space to accommodate refugees can post their contact information and temporary housing arrangements. The group had over 230 members as of Tuesday.
The BC Wildfire Service reported four small fires caused by lightning north of McBride on the weekend —about 1,000 sq. feet each — all of which have been contained.
The closest fires to Valemount, as of Tuesday, were a small fire (0.67ha) about an hour south, and a car fire near Mt. Robson, both of which were quickly contained.
Strong winds have brought forest fire smoke into the Robson Valley. As a result, the Province has issued a Smoky Skies bulletin for the valley.
The bulletin is issued when conditions may fluctuate rapidly and is similar to an air quality advisory. Provincial air quality meteorologist Gail Roth says smoke concentrations will vary widely as winds, fire behaviour and temperatures change.
Between 6pm Monday evening and 6am Tuesday morning, particulate matter grew to more than 160ppm. The provincial air quality objective is an average of 25ppm (over 24 hours).
Residents could smell the smoke and hardly make out the surrounding mountains.
On Jul. 10, the Prince George Fire Centre banned campfires in the Prince George Fire Centre to help prevent human-caused wildfires, and protect public safety.
The interior's fires continue to rage on, and other communities are still at risk and on the brink of evacuation.
The largest fires to date were on Jul. 7 in the communities of Ashcroft and Cache Creek, located roughly 120 KM west of Kamloops.
Media reports state authorities have closed the Ashcroft Hospital, moving patients to Merrit, while in Cache Creek a number of buildings have been engulfed by fire, including a couple of local airport hangers.
The City of Prince George is the major centre in the north for evacuees. The city continues to provide accommodation to evacuees from the Cariboo Regional District due to the recent wildfires.
On Jul. 9, PG had provided group-lodging for 88 people, 67 evacuees had been billeted, and 14 were staying in RVs in the College of New Caledonia parking lot.
Donations to the B.C. Wildfire efforts can be given through the British Columbia Fires Appeal with the Canadian Red Cross.