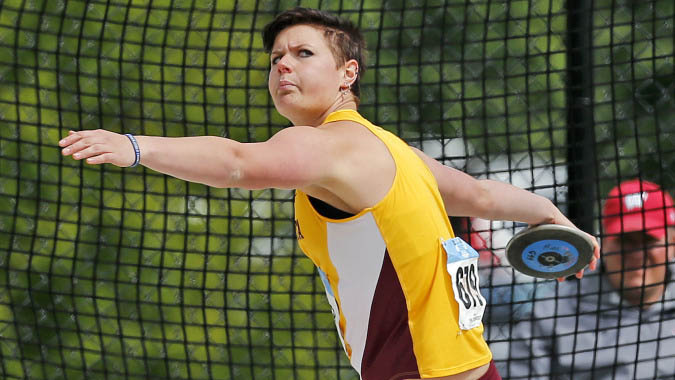 by LAURA KEIL
McBride native Agnes Esser, 21, has won the national title in Canada's women discus at the Canadian Track and Field Championships yet again, qualifying her for the World University Championships in Taiwan next month.
Last weekend, Esser defended her title from last year with a throw of 50.95m – more than three metres further than runner-up Brittany Crew and further than Esser's throw last year of 50.32m.
"It was fun to go and repeat what I did last year," she told the Goat in an interview Tuesday.
She also placed 5th in the hammer throw.
She will compete in both hammer and discus in Taiwan during the event Aug 18-30. She attended the same event in South Korea competing in discus in 2015.
Esser is majoring in Physiology at the University of Minnesota and is on their track and field team, the Gophers. She is entering her senior and final year at school.
She was back in McBride last month to see her younger brother graduate from high school.
Esser battled tough weather conditions at last weekend's meet, including a delay at the start of the competition.
Despite winning, Esser says she would have liked to have better throws.
"As far as my performance went, I felt I didn't perform to my best. Obviously I'm happy I got the win. But with what we're doing in practice, I feel there's more that I can achieve. I'm looking forward to the competition in Taiwan because I feel I can put together a better performance there."
Esser holds the university's discus record at 57.91m (190-00), a mark she set during the 2016 season. Earlier this year, Esser recorded her career-best hammer mark of 61.66m (202-03) at the Longhorn Invite to move into third in Gophers' history.