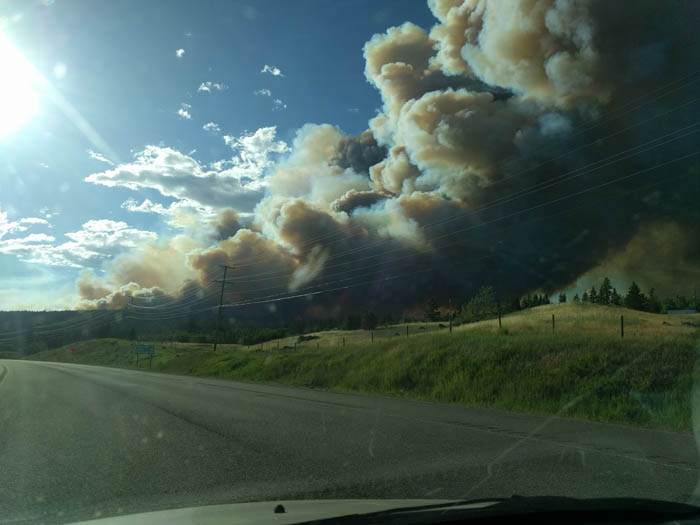 Fires ravage the interior; residents question what's left
by EVAN MATTHEWS
For Alan and Danielle Stusrud, the fire near 100 Mile House has been a life-changer.
The Stusrud's home has been confirmed to be in one of the areas majorly affected by the fire, and even now, the reality is the family doesn't fully know what they'll be returning to.
"We don't know if our home is okay," Alan Stusrud told the Goat on Tuesday morning.
The Stusrud family is from 108 Mile. After being evacuated, the family sought refuge in Valemount with the Janums who are family friends.
The Stusrud's neighbourhood was the first area threatened by the Gustafsen fire, which was reported to be 1800 ha Tuesday.
Alan says he was at work when he received a text from his wife, Danielle.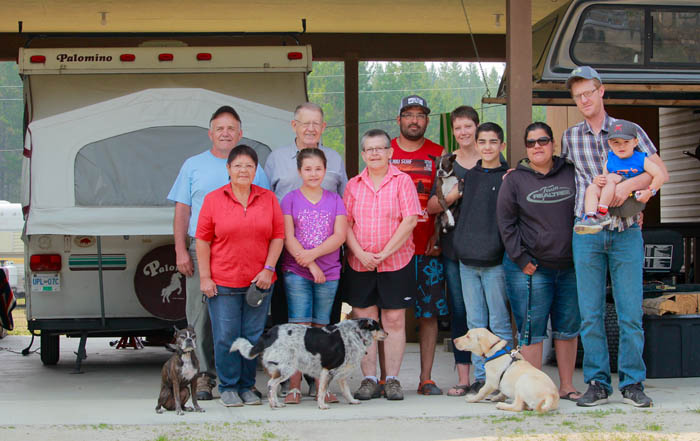 "Alan, phone me. There's a forest fire," it read.
"You could see the plume from Williams Lake almost… which is almost an hour away," he says, which is where he works.
The couple had plans to go to Vancouver and see the bands Offspring and Sublime on the Friday night, while two of their kids — Marley and Nolan — had plans to go camping with Alan's parents.
The pair's eldest child stayed with Danielle's parents.
The pair debated whether or not they should go to the concert the following evening.
The next morning, Alan says the fire seemed to have moved away from their home.
"We got up and thought we were safe… They had bombers flying all around us, and we thought they… contained it," says Alan.
Alan and Danielle drove to the coast via Highway 97, through Cache Creek and many of the areas to be later affected by fire.
"It was all fine at that point," says Alan.
But authorities closed Highway 1 shortly after, and told the couple they would be re-routed on their way home.
The winds started to pick up in the 100 Mile House area Friday evening while the Stusruds were at the show.
"It was like a warzone. Helicopters with buckets, bombers… There was like six of them in a row. They were flying all around us," — Danielle Stusrud, 100 Mile House evacuee
It wasn't until Saturday morning the Stusruds saw the news.
"I saw pictures of my work going up in flames on the news," says Alan. He works for Pioneer Log Homes. He isn't sure his job will be there when he returns.
By the time they hit the road to return home, much of the area around 100 Mile had been evacuated.
"It was bad. It was gridlock once we got back to our subdivision," says Alan.
"Two houses on our street burnt up… That's how close it was," says Danielle.
Danielle's dad had already picked up their tent trailer and truck.
"Everything else is insured, we'd deal with everything else later if necessary," says Alan.
The Stusrud's children were still camping with Alan's parents.
"We hadn't heard from my parents," says Alan. "We still didn't know where our kids were, or if they were even okay."
The Stusrud's were unable to contact their children for two days. Alan's sister went into the bush to look for them. Finally, the Stusrud's received a text saying Alan's sister had found his parents and children safe.
The fire that the family had initially thought missed the area they live in came back around, and it had since expanded to put Alan's parents' house — near 103 Mile — in danger, too.
The fire led to evacuations in 103 Mile, 105 Mile and 108 Mile north to Lac La Hache.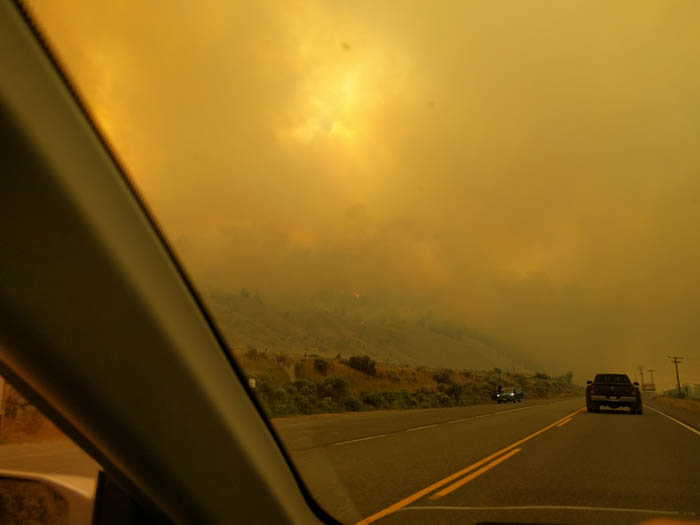 The Stusruds headed to 100 Mile. Their group —comprised mostly of family — continued to grow with each evacuation, inching ever closer to 100 Mile.
"Our MLA Donna Barnett came into our town hall meeting and said, 'I'm not going to lie to you… It doesn't look good,'" says Danielle, fighting tears. The town hall was an extremely emotional experience, she added.
"It's lives we're worried about now," Barnett said, telling community members fireguards had been set up around the local mills to protect industry, and fire crews were doing everything they could to save the town.
On Sunday at 9 PM, 100 Mile House — the community of 2,000 — was ordered to evacuate. Residents were asked to head to Prince George.
Alan's family decided to leave, while Danielle's stayed.
"It's been the hardest part," she says. "Our whole family got split up."
The Stusruds' oldest daughter ended up staying with Danielle's parents.
It was pitch black as the couple approached the end of Highway 24, near Little Fort, but another fire was engulfing the mountainside, lighting the smoky skies a bright orange, they say.
The couple made it through, and up Highway 5 to Clearwater, just before fire authorities closed Highway 24 for good.
After a night in Clearwater, the Stusruds received a text message from Sandy Janum, who offered the family refuge in Valemount.
By Monday night at 10 PM, the 10,000 people in Williams Lake were put under an evacuation alert, not to be confused with an actual evacuation.
The total number of evacuees in the province continues to climb, currently sitting around 14,000.
"Forest fires never used to scare me," says Danielle. "Now the slightest wind makes me think."
"We don't know what's going to happen, but we all want to go home," she says.
The family is extremely thankful to the Janum's, and to the community, who have all been so open and welcoming to them, they say.